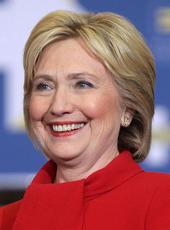 Clinton to Republicans: 'Stop Playing Politics' with Miners' Benefits
Last week, 12,500 retired coal miners and dependents received notice that they will lose their health care benefits at the end of the year unless Congress passes the bipartisan Miners Protection Act, which Senator Tim Kaine, Hillary Clinton's running mate, has co-sponsored. In response, Hillary Clinton issued the following statement:
"I firmly believe that if you spent your life keeping the lights on for our country, we can't leave you in the dark," said Hillary Clinton. "For more than a century, America's coal miners have put their lives and health on the line to provide affordable and reliable energy for the nation, but now they risk losing the benefits they have earned and deserve through no fault of their own.
"There is no time for delay," Clinton asserted. "Last week, more than 12,000 retired coal miners and family members in states such as West Virginia, Ohio, Kentucky and Indiana received word that they will no longer have health insurance at the end of the year unless Congress acts. Time is running out for Republican leadership to stop playing politics and give the Miners Protection Act a vote."
Miners and their families in Alabama, Arizona, Florida, Georgia, Illinois, Indiana, Kentucky, Missouri, North Carolina, Ohio, Pennsylvania, South Carolina, Tennessee, Virginia and West Virginia could be affected.
Throughout her campaign, Hillary Clinton has stood up for the health care and retirement security of American miners and their families and challenged attempts by coal companies, including Patriot Coal, Peabody Energy, Alpha Natural Resources, and Walter Energy to use bankruptcy courts to shirk their responsibilities.
Under pressure some of these companies have since reversed course, including Peabody Energy, which agreed last year to extend benefits for the 12,500 miners and family members currently at risk after Hillary Clinton spoke out. But a federal backstop is now required to protect these miners, along with the nearly 100,000 other retirees and dependents whose healthcare and retirement security are at risk unless Congress acts. Hillary Clinton has called repeatedly for passage of the Miners Protection Act.
Hillary Clinton, Clinton to Republicans: 'Stop Playing Politics' with Miners' Benefits Online by Gerhard Peters and John T. Woolley, The American Presidency Project https://www.presidency.ucsb.edu/node/318763