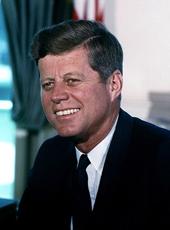 Citations and Remarks Upon Presenting the President's Awards for Distinguished Federal Civilian Service.
CITATATIONS [read by John W. Macy, Jr., Chairman, U.S. Civil Service Commission, and Executive Secretary, Distinguished Civilian Service Awards Board]:

To: Dr. Fred L. Whipple, Director, Astrophysical Observatory, Smithsonian Institution.

With profound appreciation, highest esteem, and great personal satisfaction.
A world famous astronomer, Dr. Whipple conceived and developed an optical satellite tracking system which stood ready to track the first artificial satellite launched and has since provided valuable scientific data concerning the nature of the earth, its atmosphere and outer space.
His character, marked by imagination, foresight, and perseverance has proved a model of achievement and a dedication to the scientific spirit of the Nation.

To: David D. Thomas, Director, Air Traffic Service, Federal Aviation Agency.
Through exceptionally effective advance planning and outstanding leadership, Mr. Thomas has vastly improved the safety of the Nation's controlled airways for civil and military aviation and has expanded them from 160,000 to 356,000 miles.
The present air traffic control system is acknowledged as the finest and most efficient in the world today as a result of his distinguished achievements.

To: Dr. Sherman E. Johnson, Deputy Administrator, Foreign Economics, Economic Research Service, Department of Agriculture.
An eminent scholar in the economics of agricultural production, Dr. Johnson has through expert counsel played a vital role in the development of agricultural programs to better serve the interests of American farmers and the Nation. By his valuable advice on the Food for Peace program and on farm management in the United Kingdom, India and Latin American countries, he is serving as an agricultural statesman in helping other countries improve their agriculture and the lot of their people.

To: Dr. Alain C. Enthoven, Deputy Assistant Secretary of Defense for Systems Analysis.
By his brilliant analyses of highly complex defense issues, Dr. Enthoven has made notable contributions to the solution of the most critical defense problems facing the Nation. His work touching every area from battlefield weapons to strategic concepts has been of unique and long-range value to defense planning and policy-making at the highest levels of Government.
To: Winthrop G. Brown, Deputy Commandant for Foreign Affairs, the National War College.
Both a civil servant and later as a Foreign Service officer, Ambassador Brown has advanced our international interests and improved our relations with other countries. He has proved his worth as a diplomat in areas important to both our foreign economic and political policy. As a negotiator of agreements for the removal of obstructions to the flow of international trade, he improved the world markets for the products of our farms and factories and as Ambassador to Laos he dealt with skill and sensitivity with the serious international crisis that threatened the peace in a vital area of the world. At all times he has shown the calmness, clarity, dedication and judgment that are the characteristics of the outstanding public servant.
THE PRESIDENT. I want to express my appreciation to Mr. Ball and the members of his Board for the recommendations that they have made, Commissioner Macy for his work on the matter, and to the heads of the departments that are here and, most especially, to the men whom we honor today.
I think this ceremony which takes place yearly is one of our most important opportunities to indicate the wide range of national services which are rendered by very dedicated men and women to all the people of this country and, indirectly, to people all over the world.
I am glad we are doing it in June. I think it reminds a good many young men and women of what a fruitful and stimulating career, useful career, they can find in the Government service.
These men all came to their present positions of responsibility by different ways. Mr. Enthoven has been with the Government only 3 years. We have another one from the Department of Agriculture who has contributed to the fact that we have nearly $600 million in surplus dairy products that we are trying to deal with; and the extraordinary record in air safety and the development of air transportation which has been due to the work done by the representative of the FAA, Mr. Thomas.
I was on the other end of a cable line from Ambassador Brown and know personally of some of the very responsible and sensitive service that he rendered in Laos in very difficult times. He has been succeeded by another good ambassador.
And there is the work which Mr. Whipple has done, of course, which is worldwide and, in fact, literally worldwide, in bringing us close to the outer reaches of the world.
This indicates what an extraordinary variety of talents we have; that the Greeks were right when they defined happiness as full use of your powers along lines of excellence, and we have here men who have extraordinary powers which they have used fully along very excellent lines. We appreciate all they have done.
We also want to express a welcome to our friends from NATO. I understand some visitors have come here representing newspapers, and we are glad to welcome them to the White House to see a side of American life which is perhaps not as well known as it might be, but which is a part, of course, of the lives of their country of which we take special pride. So we are glad to have them visiting with us on this ceremonial day.
Note: The President spoke at 11:30 a.m. in the Flower Garden at the White House. George W. Ball, Under Secretary of State and chairman of the Awards Board, spoke briefly at the beginning of the ceremony and introduced Mr. Macy, who read the citations. Dr. Whipple was presented to the President by Dr. Leonard C. Carmichael, Secretary of the Smithsonian Institution; Mr. Thomas by Najeeb E. Halaby, Administrator, Federal Aviation Agency; Dr. Johnson by Orville L. Freeman, Secretary of Agriculture; Dr. Enthoven by Robert S. McNamara, Secretary of Defense; Ambassador Brown by Dean Rusk, Secretary of State.
In his closing remarks the President referred to 20 journalists from 13 NATO countries who were visiting the United States under the auspices of the Departments of State and Defense and the U.S. Information Agency.
John F. Kennedy, Citations and Remarks Upon Presenting the President's Awards for Distinguished Federal Civilian Service. Online by Gerhard Peters and John T. Woolley, The American Presidency Project https://www.presidency.ucsb.edu/node/236676