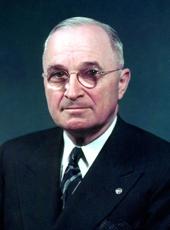 Citation Accompanying Medal for Merit Presented to Samuel I. Rosenman.
CITATION TO ACCOMPANY THE AWARD OF THE MEDAL FOR MERIT TO SAMUEL I. ROSENMAN
SAMUEL I. ROSENMAN, for exceptionally meritorious conduct in the performance of outstanding services to the President of the United States and his country. As an unofficial adviser to the late President Roosevelt, he gave freely of his time and many talents, coming to Washington whenever called by the President. During the critical war years, he came to Washington, at a great personal sacrifice, to become Special Counsel to the President, the first to occupy that important position. In order so to serve, he resigned as Justice of the Supreme Court of the State of New York. Through his great talents, his vast experience as a lawyer, legislator, and judge, and his ability to organize and dispatch work, he was of inestimable service to the President and the country in carrying to a successful and speedy conclusion World War II. He rendered sound advice on many matters of national and international policy, legislation and government administration and lifted from the shoulders of the President many vexatious problems, thus lessening materially the burdens of the Chief Executive and Commander in Chief, and permitting him to give his attention to more important problems. Through his assistance in the reorganization of many of the Executive Departments, and agencies of the Government as required by war needs, the business of government was carried on with greater effectiveness. He served with distinction not only in this country, but also abroad, where he represented the President in matters of great international importance. After the untimely death of President Roosevelt, he continued as Special Counsel to President Truman and has rendered great assistance to him in the initial stages of the reconversion period. Justice Rosenman brought to his office not only high professional attainments, but a marked devotion to duty, great perseverance, outstanding administrative ability, and a deep sense of public service.
HARRY S. TRUMAN
Note: The presentation was made by the President in a ceremony at the White House at 11:30 a.m.
Harry S. Truman, Citation Accompanying Medal for Merit Presented to Samuel I. Rosenman. Online by Gerhard Peters and John T. Woolley, The American Presidency Project https://www.presidency.ucsb.edu/node/232090