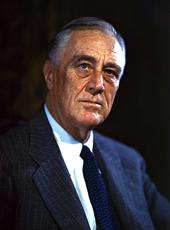 Christmas Greeting to the Nation
At this Christmastide of 1940 it is well for all humanity to remind itself that while this is in its name a Christian celebration, it is participated in reverently and happily by hundreds of millions of people who are members of other religions, or belong actively to no church at all.
The reason is not far to seek. It is because the spirit of unselfish service personified by the life and the teachings of Christ makes appeal to the inner conscience and hope of every man and every woman in every part of the earth. It transcends in the ultimate all lines of race, of habitat, of nation. It lives in the midst of war, of slavery, of conquest. It survives prohibitions and decrees and force. It is an unquenchable Spring of Promise to humanity.
Sometimes we who have lived through the strifes and the hates of a quarter century wonder if this old world of ours has abandoned the ideals of the Brotherhood of Man. Sometimes we ask if contention and anger in our own midst in America are a portent of disunion and disaster. Sometimes we fear that the selfishness of the individual is more and more controlling in our lives.
When we are in those moods it is hard for us to keep from putting our tongues in our cheeks when we say "Merry Christmas"—for we think in thoughts of futility and not of hope. A few people are cynics all of the time; some people are cynics part of the time; but most people keep their faith most of the time.
That is why we must keep on striving for a better and a more happy world.
It is unintelligent to be defeatist. Crisis may beget crisis but 'the progress underneath does not wholly halt—it does go forward.
In a century we have gained much. Aside from great areas stricken by actual warfare in the present moment, the lives of human beings are safer than they were in the olden days. Great and Spreading plagues take smaller toll; starvation of millions is less; the forces of nature are better controlled. There is in the civilization we recognize a greater security for the young, for the worker, for the aged. Charity in the narrower sense of the word helps the needy more usefully.
Compared with the days when Charles Dickens wrote the Christmas Carol, we see a definite betterment. We do not claim attainment, and we recognize that there is much—oh, so much-to do.
Most of all we ask a chance to do it—yes, a peaceful chance to do it.
We want to do it the voluntary way—and most human beings in all the world want to do it the voluntary way. We do not want to have the way imposed on the world by the conquest of the world by the sword.
That would not follow in the footsteps of Christ. That would not make for happier Christmases in the future of any nation. Mankind is all one—and what happens in distant lands tomorrow will leave its mark on the happiness of our Christmases to come.
Let us make this Christmas a merry one for the little children in our midst. For us of maturer years it cannot be merry.
But for most of us it can be a Happy Christmas if by happiness we mean that we have done with doubts, that we have set our hearts against fear, that we still believe in the Golden Rule for all mankind, that we intend to live more purely in the spirit of Christ, and that by our works, as well as our words, we will strive forward in Faith and in Hope and in Love.
In that spirit I wish a Happy Christmas to all, and happier Christmases yet to come.
Franklin D. Roosevelt, Christmas Greeting to the Nation Online by Gerhard Peters and John T. Woolley, The American Presidency Project https://www.presidency.ucsb.edu/node/209414