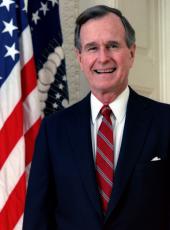 Christmas Address to the Nation
Merry Christmas!
I'd like to offer a special greeting to the men who were held hostage so long, and to their families who never surrendered hope through the long years of isolation and hardship.
These valiant people sustained themselves through faith and friendship, character and courage. They demonstrated the strength of American ideals, character and determination, a strength that inspired the entire world in 1991.
Nineteen ninety-one has been a year of dramatic change and challenge. It was about 1 year ago, in the interest of world peace, that I decided Saddam Hussein's aggression would not stand even if force had to be used. We tried diplomacy and economic embargoes, and then we moved against the brutal dictator and liberated Kuwait.
When our troops returned home, we felt whole, proud of their courage, confident in ourselves. And that was just the beginning of a momentous year.
Who would have thought 12 months ago, that the Soviet Union as we have known it would no longer exist. Who would have thought that Arabs and Israelis in the Middle East would sit down to discuss ways of forging a permanent peace. And who would have thought that we would see democracy and freedom sweep the globe so dramatically. Who would have thought that American ideals would triumph with such startling suddenness.
In 1991, the impossible became history. And now we must capture that same spirit of belief in ourselves as we overcome hard times at home and build a foundation for lasting prosperity and peace.
And we've already started. Just last week I signed a transportation bill that will put hundreds of thousands of Americans back in good jobs. This year, we unleashed a revolution in education. And I can tell you by the end of this decade, we will have the world's best schools. And our children will lead the next generation to a better future.
And next week I'll travel to Asia to fight for open markets and more opportunities for American workers because exports abroad mean more jobs right here at home. Let there be no mistake, my number one priority is jobs and economic growth. And I'm confident that we will succeed.
Let us remember that American ideals, faith, fellowship, family, freedom, are the values that will shape the world dawning before us. Already, Americans have banded together to help those in need, and that's appropriate for this season of faith. It's also the way Americans are: decent, helpful, full of ambition and hope, united in their devotion to community and family. Thank God for our families.
When I lit our National Christmas Tree in Washington nearly 2 weeks ago, thousands of lights illuminated the towering spruce, thousands of warm beacons transformed the night. Each day we can light the darkness by helping someone in need, working to see that no elderly person goes to bed hungry; that no homeless person spends another night shivering on the streets; that no child sits alone, unloved, unknown.
Americans have the talent and power to do anything. And so when history remembers Christmas, 1991, let it remember that we promise to bring God's light to our brothers and sisters in need. Let it record that on Christmas, 1991, this Nation united to ask God for peace on Earth, goodwill to all. And let it record that a new age of goodness and hope began here and now.
God bless you, and may your Christmas be bright with love.
Note: The President recorded this address at 11:45 a.m. in the Blue Room at the White House for broadcast at 2:30 p.m. A tape was not available for verification of the content of this address.
George Bush, Christmas Address to the Nation Online by Gerhard Peters and John T. Woolley, The American Presidency Project https://www.presidency.ucsb.edu/node/266241