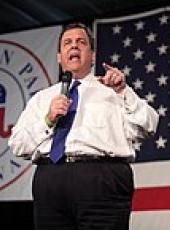 Christie Campaign Press Release - New Hampshire State Senator Jerry Little Endorses Chris Christie for President
Little calls Christie "A Leader Who Puts People Over Politics"
For Immediate Release:
Thursday, December 10, 2015
MORRISTOWN, NJ - Continuing a week of unmatched momentum, Governor Chris Christie today received the endorsement of New Hampshire State Senator Jerry Little (R-Weare), who will join the governor at his town hall meeting on Saturday at 10am at Weare Middle School.
"Governor Christie is the only candidate for president who can unite us all as Americans to overcome the historic challenges we face after eight years of failed leadership in Washington," said Little. "Governor Christie led as a Republican governor with a Democratic legislature and with strong, unwavering leadership, he was able to achieve historic bipartisan reforms in his state to balance six budgets without raising taxes and close a $13 billion budget deficit. We need a leader who puts people over politics and a president who can make Congress do its job for the American people again."
Little added, "Our country faces the greatest threat to our national security since the days before September 11, 2001. Governor Christie served as United States Attorney in the aftermath of those attacks, and he was the first candidate in this race to address the need to strengthen our intelligence gathering capabilities so that we can protect the homeland. Now more than ever, we need a tested, experienced president to keep our country safe."
Senator Jerry Little is serving his first term in the New Hampshire Senate, having been elected in 2014 to represent portions of Cheshire, Hillsborough, Merrimack and Sullivan counties in District 8. He serves as the vice chair for both the Finance and Energy & Natural Resources committees. Senator Little, now retired, worked most recently as the President of the New Hampshire Bankers Association. He began his career as a Concord radio reporter and later served as Press Secretary for Governor John H. Sununu. Little has held multiple board member positions including the Weare Public Library Foundation Board of Directors, Weare Capital Improvement Projects Committee, the Weare Agriculture Committee as well as the NH Bar Foundation Board of Trustees. In addition, he served as the town moderator for the Town of Weare and Weare School District. Little was born in Concord and is a lifelong New Hampshire resident. He received his bachelor of arts degree from the University of New Hampshire and currently lives in Weare with his wife Heidi.
Click here to listen to State Senator Jerry Little announcing his endorsement for Chris Christie this morning on WNTK.
Chris Christie, Christie Campaign Press Release - New Hampshire State Senator Jerry Little Endorses Chris Christie for President Online by Gerhard Peters and John T. Woolley, The American Presidency Project https://www.presidency.ucsb.edu/node/311569