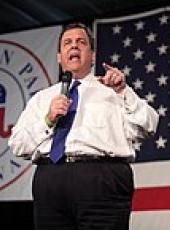 Christie Campaign Press Release - ICYMI - George Will: Keep an Eeye on Chris Christie
Keep an eye on Chris Christie

George F. Will, Washington Post Columnist

Delaware Online
Iowa and New Hampshire together have just 1.4 percent of the U.S. population, which is actually why it is fine for them to begin the presidential selection process: Small states reward an underdog's retail politics. Chris Christie relishes such politics and has fresh evidence that voters are enjoying his enjoyment.
Speaking last Wednesday by phone from his home away from home, New Hampshire, he said: "People have remembered why they liked me in the first place." His saturation campaigning there has produced a 55-point reversal of his favorable/unfavorable rating in the Granite State, from 16 points more unfavorable than favorable to 39 points more favorable than unfavorable. According to last week's Des Moines Register/Bloomberg poll, Christie's favorability number in Iowa is 51 percent, up from 29 percent in August, when his unfavorability number was 59 percent.
...
Christie will campaign in Iowa for nine days before the Feb. 1 caucuses. If they yield a cloudy result -- say, the top four finishers clustered within four points -- New Hampshire will become the scythe that reduces the field. Christie plans to be "the last governor standing" when, after South Carolina at the latest, he expects former Govs. Mike Huckabee and Jeb Bush and current Gov. John Kasich to join current and former Govs. Scott Walker, Rick Perry, Bobby Jindal, George Pataki and Jim Gilmore on the sidelines.
...
"I was not on the 1/8 debate 3/8 stage two months ago," Christie says. He expects to be at the center of the stage at the Cleveland convention.
Chris Christie, Christie Campaign Press Release - ICYMI - George Will: Keep an Eeye on Chris Christie Online by Gerhard Peters and John T. Woolley, The American Presidency Project https://www.presidency.ucsb.edu/node/311678