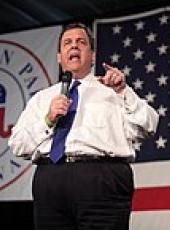 Christie Campaign Press Release - ICYMI - Foster's Daily Democrat Op-Ed: Jeff Chidester: Christie Has Sense, Maturity, Intellect
Christie has sense, maturity, intellect

Foster's Daily Democrat

Jeff Chidester
Who are you supporting? You will either answer the question with conviction, reservation or uncertainty. In almost every other state, the presidential candidates and policies we support or oppose attract very little attention except maybe in an active political circle. But we live in New Hampshire, where the conversation of politics is as natural as talking about the weather; the only difference is that confusing partly cloudy with partly sunny usually won't end in a fist fight.
Being a participant of the First-in-the-Nation Primary is fraught with danger, even for someone as seasoned as me.
I take my role as a public figure very seriously. Whether or not people agree with me, there is a trust established between those who read my article, listen to my radio show or invite me to speak in front of their organization. It is my belief that failing to share with you who I am supporting, all while continuing my public commentary, would be a violation of this trust. With that said, I wanted to let you know why I have decided to enthusiastically support New Jersey Gov. Chris Christie for president and why I am encouraging all those who are still undecided to consider Christie.
The first thing that impressed me about the governor was his approach to governing. Christie governed as a conservative in one of the most fiscally liberal states in the country. Unlike many of the others running for president this cycle, Christie has had to govern with a legislative body that overwhelmingly consisted of representatives from the opposition party. Democrats outnumber Republicans in New Jersey by more than 700,000 votes, yet Christie has governed as a conservative, building consensus with Republicans, Democrats and Independents.
...
Under Christie, New Jersey has become the role model for criminal justice reform and veterans care. Christie's efforts proved so successful that the New Jersey prison population has been reduced to the point it can now close one prison. However, Christie is not going to just board up the prison to sell it to a private entity. Working with the private and nonprofit sector, he is leading the charge to convert the former prison to a state-of-the-art drug treatment center. Christie believes we need to stop treating drug addiction purely as a criminal matter, and start treating it as a health care issue. He is not only proving to be a leader for New Jersey on this issue, but for the nation.
Christie's commitment to veterans is extremely impressive. When the federal government shut off funding to the Rutgers University-operated suicide prevention hotline (Vets4Warriors), Christie showed true leadership and stepped up to save the program. Vets4Warriors hotline is now funded thanks to Christie and the people of New Jersey, yet remains accessible to all veterans across the country. Accountability and dedication, those are characteristics of Christie's leadership style. A style we need leading our country.
Regardless of your party affiliation or political ideology, none of that matters if you cannot govern. Christie proved, much like Ronald Reagan did, that you can govern as a classic conservative without always alienating people of differing opinions. All too often we criticize from "the hip." Those who have never had to govern claim how "if they were in charge, things would be different," as if somehow they have a magic wand that others do not possess. Governing is not easy, but some people rise to the occasion. One such person is Gov. Christie.
Jeff Chidester was raised in Portsmouth and is a lifelong resident of New Hampshire. He is the host of the Clear Channel radio show "New Hampshire Perspective with Jeff Chidester," which can be heard on News Radio WQSO - 96.7 FM and New Hampshire's News Network WGIR - 610 AM.
Chris Christie, Christie Campaign Press Release - ICYMI - Foster's Daily Democrat Op-Ed: Jeff Chidester: Christie Has Sense, Maturity, Intellect Online by Gerhard Peters and John T. Woolley, The American Presidency Project https://www.presidency.ucsb.edu/node/311675