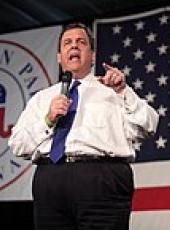 Christie Campaign Press Release - Following A Strong Debate Performance, 11 Iowa Republican Leaders Endorse Christie for President
For Immediate Release:

Thursday, October 29, 2015
MORRISTOWN, NJ - Following last night's outstanding debate performance by Governor Christie, eleven additional Iowa community leaders and party activists from across the state endorsed Chris Christie for President of the United States and joined his Iowa Leadership Team. These leaders join a strong Iowa team with deep roots in Iowa politics, including a number of former Branstad staffers and experienced activists that will ensure a strong performance for Christie in the Iowa Caucuses.
"Governor Chris Christie has the strong leadership qualities and political courage our country needs now. He's achieved real, conservative reforms, reduced the size and cost of government, lowered the tax and regulatory burdens, and fought to ensure New Jersey's fiscal house is in order, in spite of a Democratically-controlled legislature. These common sense reforms were possible because Gov. Christie is willing to tell it like it is, regardless of his audience. His bold actions resulted in an historic re-election margin in one of the bluest states in the nation, a testament to his effective leadership. Governor Christie's efforts to support Iowa Republicans up and down the ballot over the last several years have shown his commitment to conservative principles, responsible government, and the people of Iowa," said Representative Chip Baltimore. "I firmly believe that he is the candidate our party should choose as our nominee, and our state and country should choose as our president in 2016. I encourage Iowa Republicans to start the process to make this happen."
"Governor Chris Christie has spent years taking on the biggest problems and toughest challenges New Jersey faces, and that kind of problem solving is desperately needed in the White House right now. Governor Christie showed the nation in the debate last night that he is the candidate most focused on the American people, securing our borders, defending our nation, and not on questions about fantasy football or other issues," said Connie Schmett."Iowa has a proud tradition of strong leaders like Governor Branstad, and Senators Ernst and Grassley, and I believe Governor Christie possesses those same abilities."
Iowa Leaders Endorsing Governor Christie:
Chairman of the House Judiciary Committee State Representative Chip Baltimore (Boone, IA)
Jasper County Republican Leader Diane Birchard (Newton, IA)
COO of Iowa Soybean Association Karey Claghorn (Milo, IA)
Business and Republican Leader Manda Elwell (Ankeny, IA)
Jasper County Republican Leader Shelley Van De Krol (Newton, IA)
Polk County Republican Leader Beth Ann Mahaffey (West Des Moines, IA)
Polk County Republican Leader Tom Mazza (Des Moines, IA)
Dallas County Republican Leader Jennifer Osby (West Des Moines, IA)
Major General Maurice Phillips, USA (Ret.) (Newton, IA)
Connie Schmett (Clive, IA) (former Governor Walker Supporter)
2008 Republican Candidate for Congress Kim Schmett (Clive, IA) (former Governor Walker Supporter)
Chris Christie, Christie Campaign Press Release - Following A Strong Debate Performance, 11 Iowa Republican Leaders Endorse Christie for President Online by Gerhard Peters and John T. Woolley, The American Presidency Project https://www.presidency.ucsb.edu/node/311521