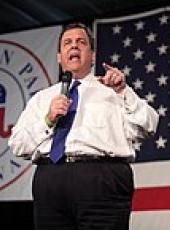 Christie Campaign Press Release - Boston Herald Endorses Christie - "Tested Leader for Troubled Times"
Christie: Tested leader for troubled times

Editorial

Boston Herald
The world changed on Nov. 13 when terrorists slaughtered 130 people in Paris. Then at a holiday party in San Bernardino terror came to our homeland — again.
And while all of this was shaking our world, the Republican presidential campaign was becoming an increasingly bizarre sideshow.
...
And while we respect and admire all three of those who have served as governors who are now running for the GOP presidential nomination, our endorsement goes to New Jersey Gov. Chris Christie.
A former U.S. attorney for the District of New Jersey, Christie knows something about being on the front lines of the ongoing war on terror. And he's certainly not reluctant to talk about where this nation has gone astray on the international front.
...
And there is just something about that Jersey guy attitude — feisty but not mean-spirited, tough but not hateful — that has a shot at taking an angry electorate and helping it find a focus and a purpose.
Gov. Chris Christie is a smart and principled candidate with a real shot at uniting his party and broadening its appeal in November.
Starting now this race gets serious, and Christie is a serious candidate.
Chris Christie, Christie Campaign Press Release - Boston Herald Endorses Christie - "Tested Leader for Troubled Times" Online by Gerhard Peters and John T. Woolley, The American Presidency Project https://www.presidency.ucsb.edu/node/311547