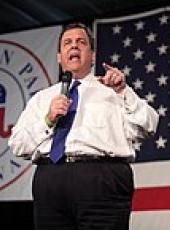 Christie Campaign Press Release - 27 Former US Attorneys Form Coalition In Support of Chris Christie For President
Joined by Congresswoman Susan Brooks, Congressman Pat Meehan, and Former Associate Attorney General Kevin O'Connor
For Immediate Release:
Monday, January 25, 2016
MORRISTOWN, NJ - Today, 27 former US Attorneys announced their support for Chris Christie for President of the United States. Governor Christie served alongside these national security and law enforcement experts when he was US Attorney in New Jersey immediately following September 11, 2001 and spent six years prosecuting and convicting terrorists.
"As a former US Attorney, who understands the demands and experience the job requires, I know Governor Christie will be ready on day one to lead in the dark and dangerous times this country is now facing," said former Associate Attorney General Kevin O'Connor. "Background and experience is an important qualifier for our next commander-in-chief and that is why I wholeheartedly support Governor Christie for president."
"I had the privilege of serving with Governor Christie when he was United States Attorney for New Jersey, and I know he has the integrity, strength, and courage to successfully handle the complex challenges facing our country," said former Virginia U.S. Attorney John Brownlee. "The choice in this election is clear. We need to elect a leader with a proven national security and law enforcement record and that leader is Chris Christie."
"As leaders who understand the importance of protecting our homeland first, I am honored to receive the support of these US Attorneys," said Governor Christie. "My time serving with these individuals as US Attorney under President Bush has significantly influenced the way I lead and having their support going into the first votes will be invaluable in making clear the important choice Americans have in this election."
Coalition of Former US Attorneys:

Michael A. Battle, United States Attorney, Western District of New York, 2002 - 2005

Congresswoman Susan Brooks, United States Attorney, Southern District of Indiana, 2001 - 2007

John Brownlee, United States Attorney, Western District of Virginia, 2001 - 2008

Paul Charlton, United States Attorney, Arizona, 2001 - 2007

Tom Colantuono, United States Attorney, New Hampshire, 2001 - 2009

Robert Clark Corrente, United States Attorney, Rhode Island, 2004 - 2009

Bud Cummins, United States Attorney, Eastern District of Arkansas, 2001-2006

Donald DeGabrielle, United States Attorney, Southern District of Texas, 2006 - 2008

David Dugas, United States Attorney, Middle District of Louisiana, 2001 - 2010

Troy A. Eid, United States Attorney, Colorado, 2006 - 2009

Terry Flynn, United States Attorney, Western District of New York, 2006 - 2009

Thomas B. Heffelfinger, United States Attorney, Minnesota, 1991 - 1993 and 2001 - 2006

Bill Leone, United States Attorney, Colorado, 2004 - 2006

Jim Letten, United States Attorney, Eastern District of Louisiana, 2001 - 2012

Alice Martin, United States Attorney, Northern District of Alabama, 2001 - 2009

Robert McCampbell, United States Attorney, Western District of Oklahoma, 2001 - 2005

Jim McDevitt, United States Attorney, Eastern District of Washington, 2001 - 2010

Congressman Patrick L. Meehan, United States Attorney, Eastern District of Pennsylvania, 2001 - 2008

Bill Mercer, Acting Associate Attorney General, 2006 - 2007, and United States Attorney, Montana, 2001-2009

Gregory Miller, United States Attorney, Northern District of Florida, 2002 - 2008

Kevin O'Connor, United States Attorney, Connecticut, 2002 - 2008

John Richter, Acting Assistant Attorney General, Criminal Division, 2005, and United States Attorney, Western District of Oklahoma, 2005 - 2009

Richard Roper, United States Attorney, Northern District of Texas, 2004 - 2009

Scott Schools, United States Attorney, South Carolina, 2001, and Northern District of California, 2007 - 2008

McGregor Scott, United States Attorney, Eastern District of California, 2003 - 2009

J.B. Van Hollen, Former Wisconsin Attorney General, 2007 - 2015, and United States Attorney, Western District of Wisconsin, 2002 - 2005

Lieutenant Governor Drew Wrigley, United States Attorney, North Dakota, 2001 - 2009
Chris Christie, Christie Campaign Press Release - 27 Former US Attorneys Form Coalition In Support of Chris Christie For President Online by Gerhard Peters and John T. Woolley, The American Presidency Project https://www.presidency.ucsb.edu/node/312761