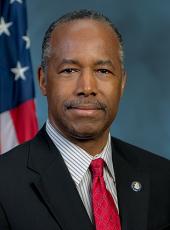 Carson Campaign Press Release - Statement from General Bob Dees, Carson for President Chairman
Despite having the least opportunity to speak at tonight's debate, Dr. Ben Carson said the most. He proved himself the best qualified candidate in the 2016 presidential race, addressing common sense solutions to the problems and concerns of the American People, demonstrating he is committed to keeping them safe and has the economic plans to make them prosper.
Dr. Carson proved he is a uniter, not a divider, setting aside pettiness of "politics as usual" and focusing on the solutions that will heal our nation. He is the only candidate with the moral character and authority to lead America as Commander-in-Chief. Ignoring political correctness, tackling bullies like Putin, defeating ISIS and restoring our global leadership requires moral courage, not political expediency.
The debate stage is one of many avenues that Dr. Carson has used to share his vision to heal, inspire and revive America. His website,www.BenCarson.com has more detailed policy positions than any other candidate, offering further proof that Dr. Carson is the most prepared to step into the Oval Office and lead from Day One.
Ben Carson, Carson Campaign Press Release - Statement from General Bob Dees, Carson for President Chairman Online by Gerhard Peters and John T. Woolley, The American Presidency Project https://www.presidency.ucsb.edu/node/312700