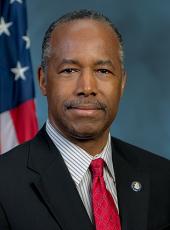 Carson Campaign Press Release - Dr. Ben Carson Releases Foreign Policy Plan; Offers Vision for Restoring American Global Leadership
Alexandria, Va. - January 12, 2016 - Dr. Ben Carson, retired neurosurgeon and 2016 Republican presidential candidate, today released his policy plan for restoring America's global leadership and rebuilding the military. The plan, titled "Prescription for a Safer, Stronger America," centers around six essential principles for securing the United States and promoting peace and stability around the world. It is available for download here.
Dr. Carson's plan recognizes the clear and abiding truth that the world is a safer place when a strong America is engaged. In the past seven years, long-standing principles of American diplomacy and foreign policy have been replaced by timidity and deference. Dr. Carson's vision for American foreign policy is to restore American leadership, defeat the Islamic State and other radical Islamic terrorist organizations and stand firm with our allies against rogue and despotic regimes.
The key to this proposal is rebuilding America's military forces and capabilities; preserving our ability to respond to any crisis anywhere in the world; and ensuring that the United States always negotiates from a position of strength.
"As Commander in Chief I will restore our military capabilities to levels fitting of our legacy as a world leader for peace and prosperity," said Dr. Carson. "I will ensure that our brave men and women in uniform are the best-trained and equipped military in the world, ready to respond to any threat to our national security. And I will hold as my highest obligation the preservation of our great nation and the ideals on which it was founded."
Ben Carson, Carson Campaign Press Release - Dr. Ben Carson Releases Foreign Policy Plan; Offers Vision for Restoring American Global Leadership Online by Gerhard Peters and John T. Woolley, The American Presidency Project https://www.presidency.ucsb.edu/node/312653