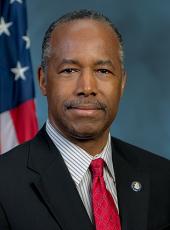 Carson Campaign Press Release - #AskBen Fireside Chat - Feb. 19
Hello, Friends. It's been a great couple of days on the campaign trail in South Carolina and it's been an honor to have the opportunity to present my solutions to the important issues facing our nation. Keep texting your thoughts and questions to 275-236 (ASKBEN).
Tonight, I wanted to take some time to talk about veterans issues in our country and what we as a nation can do to better care for our brave service men and women.
Our veterans are heroes that deserve the greatest degree of care available and we must ensure that we are fostering seamless transitions from their time of service into their time as civilians. The recent and ongoing failures of the U.S. Department of Veterans Affairs (VA) are a national disgrace. The VA's fundamental problems are twofold: first, the Secretary of the VA does not have the authority he needs to manage the organization and second, the culture at the VA needs to change.
My comprehensive plan to reform the Department of Veterans Affairs will begin with ensuring that the Secretary of Veterans Affairs has the necessary authority that they need to execute the job that they have been given. We need to standardize our acquisition procedures across the board in order to decrease the overhead costs of running the department while also modernizing the process to meet the needs of the 21st century. Finally, above all else, we must encourage a system of accountability that ensures that our government fulfills their obligation to take care of our heroes.
As a nation, we made a promise to those who bear the burden and scars of service in our armed forces that we would attend to their medical care. That is a promise we must keep, and in a Carson administration, it is one we will keep and keep well.
Tomorrow is the South Carolina Primary, and if you place your trust in me, I will be a candidate of integrity and honor that will follow through on the promises that I have made. I hope that I can count on your vote.
Ben Carson, Carson Campaign Press Release - #AskBen Fireside Chat - Feb. 19 Online by Gerhard Peters and John T. Woolley, The American Presidency Project https://www.presidency.ucsb.edu/node/312598