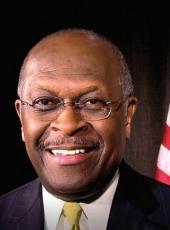 Cain Campaign Press Release - Presidential Candidate Cain Emphasizes Economy as a Priority
Article by: Angela Pellerano WTVR-TV/DT -- CBS 6 News
Polling makes clear how much Cain's position in the race has improved since the candidates last gathered in Orlando late last month.
A new Gallup national poll puts Cain in a statistical dead heat with former Massachusetts governor Mitt Romney for first place. And in New Hampshire, Cain has moved into second place behind Romney, according to a new poll by Saint Anselm College and the Harvard Institute of Politics.
Cain's newfound prominence is further affirmed by his central position on the debate stage itself — sandwiched between Romney and Texas Gov. Rick Perry.
If Cain's top-tier status is without question, what he will do with it in tonight's debate is very much up in the air.
Cain can be a dynamic presence with his rhetorical gifts and ability to turn a phrase. But he can also fall too much in love with his knack for candor. Remember that Cain asserted he wouldn't let a Muslim serve in his presidential cabinet during the last debate in New Hampshire. He later recanted.
"Some folks think Herman Cain is merely a good talker and the flavor of the month. Wrong," said Curt Anderson, a media consultant who worked for the former Godfather's Pizza CEO during the 2004 Senate primary in Georgia. "This guy is the real deal, he has the courage of his convictions, he has integrity, and he knows what he believes."
(Sidebar: The Fix declared Cain the latest "flavor of the month" in a column earlier this week. Anderson was kind enough not to call us out by name.)
What does Cain need tonight to ensure that he isn't forgotten by the time the next debate rolls around?
Sound smart on the economy, said Georgia-based Republican consultant Paul Bennecke. "He needs to provide substance and explain how his plan will fix the economy and create jobs," explained Bennecke. "If he can do that, then he might remain a relevant part of the campaign."
Republican voters seem ready to believe Cain knows what he is talking about when it comes to the economy. In a new Post-Bloomberg national poll, 20 percent said he would do the m,ost to improve the economy — just behind Romney who led the way with 22 percent.
Cain has done well — generally — in the debates so far, but he has never had to deal with the level of scrutiny from both the moderators and his opponents that will come his away tonight.
Asked about that raised level of scrutiny in an interview with Christian Broadcasting Network's David Brody on Friday, Cain responded: "When they ask me who's the president of Ubeki-beki-beki-beki-stan-stan, I'm going to say, 'You know, I don't know. Do you know? And then I'm going to say, 'How's that going to create one job?'"
Um, OK.
What Cain does with his moment tonight will determine whether this is the beginning of a long run at (or near) the top of the field for him, or the beginning of the end of his moment in the spotlight.
Herman Cain, Cain Campaign Press Release - Presidential Candidate Cain Emphasizes Economy as a Priority Online by Gerhard Peters and John T. Woolley, The American Presidency Project https://www.presidency.ucsb.edu/node/316442