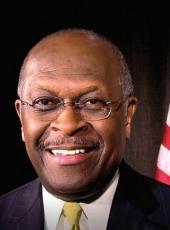 Cain Campaign Press Release - Iowans Appear Ready to Give Cain Benefit of the Doubt on Sexual Harassment Allegations
Article by: Jennifer Jacobs with Des Moines Register
Iowa conservatives appear unready to jump off the Herman Cain train — unless damning evidence emerges that proves the presidential candidate was less than truthful Monday when he denied allegations of sexual harassment.
The Des Moines Register spoke by phone with more than 20 likely Republican caucusgoers who participated in the Oct. 23-26 Iowa Poll, and none said the allegations had moved them to reject Cain as a potential pick.
Politico reported Sunday night that two women who worked for Cain at the National Restaurant Association complained of sexually suggestive behavior by Cain, accepted money to leave their jobs, and signed confidentiality agreements. Cain was CEO from 1996 to 1999.
Cain on Monday said he has never sexually harassed anyone. He called the allegations part of a "witch hunt." But throughout Monday, he offered conflicting responses as to whether he remembered the specifics of the allegations or the existence of settlements with the women.
Poll respondent Rick Hall, a Des Moines accountant, said, "Unless it rolls into something undeniably very bad at his core, it will have no effect on my feeling about Mr. Cain as far as a viable candidate. It happened far enough ago, I'm not surprised that this thing wouldn't follow many highly placed corporate officers."
Iowa conservative leaders, too, were willing Monday to give Cain the benefit of the doubt.
"He has to lay all his cards on the table now and tell all truthfully," said Steve Scheffler, a West Des Moines Republican and president of the Iowa Faith & Freedom Coalition. "If there is nothing there, he will be fine with conservatives. If there is more, then there could be some real challenges for him."
Scheffler said Cain needs to be in Iowa "on a very regular basis" between now and the Iowa caucuses on Jan. 3, and should be "very candid about what did or did not happen."
Cain, a retired Godfather's Pizza executive and an ordained Baptist minister, has been at or near the top of recent national polls and led the field in the Iowa Poll released last weekend. The allegations could hinder Cain's efforts to reassure the Republican establishment that someone with no experience in elective office and little vetting in the national limelight is ready to be the party's nominee.
Aide: Iowans not asking about story
Iowa restaurateur Paul Trostel was on the board while Cain was in charge of the National Restaurant Association. Trostel has since died, but his ex-wife, Suzanne Summy, said Monday that she traveled with him to the board's three meetings each year and that her then-husband told her what was discussed.
"Honestly, nothing was ever discussed" about such allegations, Summy, a Democrat, said Monday. "I think that that kind of thing probably would've been talked about, unless they were keeping it really low key. It would disturb me if it were true, but I really don't know anything about that."
Cain's Iowa communications director, Lisa Lockwood, said his Iowa campaign workers did not get "a single call, not a single email" from Iowa supporters concerned about the allegations. When volunteers telephoned Iowa voters on Monday, "everything we're hearing about Mr. Cain is positive," she said.
"I think most Iowans are taking the story for what it is: It's old news and no one has any information on what went on," Lockwood said. "People recognize it for what it is: Cain's in the lead, time to attack."
Cain's state campaign director, Larry Tuel, said that as a lawyer, he knows that high-level figures can be targets for various reasons.
The trade association declined to comment on the allegations.
"Consistent with our longstanding policy, we don't comment on personnel issues relating to current or former employees," National Restaurant Association spokeswoman Sue Hensley said in a statement.
Top conservatives harbor questions
Like several other politics watchers in Iowa, conservative blogger Craig Robinson of TheIowaRepublican.com had earlier this election cycle heard rumblings of sexual harassment allegations involving Cain, but couldn't confirm them.
"This is what you get when you have a candidate who's never held elected office," Robinson said. "He needs to answer these a little bit, and he needs to go farther than 'the big bad liberal media is trying to come and get me.' "
Conservative radio host Steve Deace was one of the few Iowa Republicans who predicted Monday that this episode will hurt Cain in Iowa. "Because it reinforces the notion we don't know who the real Herman Cain is."
Cain said Monday afternoon that he wasn't aware of the details of any financial settlement paid by the National Restaurant Association. "I hope it wasn't for much because nothing happened," he said.
That raised a question for Sioux City Republican Bob Vander Plaats, president of the conservative policy organization the Family Leader.
"I am a CEO, and it's awfully hard for CEOs to not know if there's a settlement or not a settlement," he said. "CEOs are supposed to authorize them."
Later Monday, Cain on Fox News said he was aware of the settlement, but wasn't sure how much it was.
"I do remember my general counsel saying we didn't pay all of the money they demanded," he said.
Poll respondents stick with Cain
Poll respondents contacted by the Register said they're still on the Cain train all the way.
Renfred Miller, a 27-year-old West Des Moines resident who works in sales, said it would have been nice to hear about the situation from Cain first, "but obviously he thought it was baseless and didn't matter."
Older GOP supporters of Cain will be especially stalwart, avoiding a rash decision until all of the details unfold, Miller said. Nevertheless, he said he wouldn't be surprised if "in the next two, three, four days some folks will start coming forward" about Cain's past.
Born-again Christian and tea partier Jason Kramer, 37, said he liked Cain after meeting him at a recent Iowa State football game. On the day he answered the Iowa Poll questions, Kramer was still leaning toward U.S. Rep. Michele Bachmann of Minnesota or Texas Gov. Rick Perry.
But on Saturday, Kramer stopped by Cain's campaign headquarters to get more details on his 9-9-9 tax reform plan.
"I'm leaning more in his direction now," said Kramer, a Slater resident who leads the marriage ministry at his Body of Christ church in Ames. "After my conversation with him at the game, I'm going to believe what he tells me — for now, until someone proves something different. He seems to be a straight shooter."
After witnessing costly regulations on farms and at the local feed mill, Adam Cook, 25, an agronomist from Ellsworth, still likes Cain best, partly because he wants to do away with the U.S. Environmental Protection Agency.
"I'm not really worried about it," Cook said of the sexual harassment allegations.
Several Iowa Republicans said sexual harassment allegations are a very serious matter.
State Rep. Kim Pearson, R-Pleasant Hill, said, "I think there are two equally wrong responses: One is to completely dismiss it, and the other is to rush to judgment."
Several poll respondents said Cain should try to take legal action to release his two accusers from the confidentiality agreement so they can explain what happened.
"If he doesn't have anything to hide, he should," Kramer said.
Herman Cain, Cain Campaign Press Release - Iowans Appear Ready to Give Cain Benefit of the Doubt on Sexual Harassment Allegations Online by Gerhard Peters and John T. Woolley, The American Presidency Project https://www.presidency.ucsb.edu/node/316435