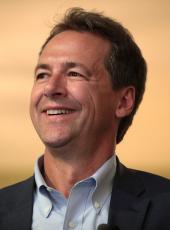 Bullock Campaign Press Release - MSNBC: Governor Bullock On Building Momentum in Iowa and Beating Trump
Helena, MT – Governor Bullock joined MSNBC's Chris Jansing to talk about his status as the only candidate in the field to have won and governed a Trump state. The interview included Bullock's announcement of raising over $2 million in six weeks and adding his fifth qualifying poll for inclusion in July's debate.
On the heels of a major Iowa endorsement, Governor Bullock is connecting with voters in early states who want to nominate a candidate that can beat Donald Trump and ensure a fair shot for everyone.
Watch: Governor Bullock on building a winning Iowa campaign and beating Trump
Key Quotes:
"I only got into this six weeks ago because I also had a job to do. I'm governor of a state, my legislature was still meeting, I had to save healthcare for 100,000 Montanans. So it was the easiest decision I could ever make to actually get my job done."
"Having that voice — someone that actually won in a Trump state, someone who's been able to get things done, somebody who's taken on, and the fight of my career has been, the crrupting influence of money in elections — I'll add a lot this month in Detroit on the debate stage."
"Iowa's always been traditionally sort of that great sorting hat which can take a big field and really narrow it down. I was so pleased when I got in and long-term Attorney General Tom Miller endorsed [me] right away. A woman named Jan Bauer, who even Elizabeth Warren said, 'no one knows Iowa politics like Jan Bauer', endorsed [me] last week. And Iowans want to make sure that they have somebody who can actually beat Donald Trump and get this economy and this political system back on track."
Steve Bullock, Bullock Campaign Press Release - MSNBC: Governor Bullock On Building Momentum in Iowa and Beating Trump Online by Gerhard Peters and John T. Woolley, The American Presidency Project https://www.presidency.ucsb.edu/node/365040