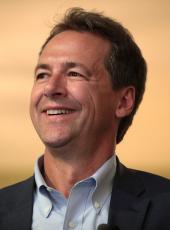 Bullock Campaign Press Release - On Iowa Sunday Show, Governor Bullock Highlights Record of Fighting Dark Money, Climate Change
Des Moines, IA – Today, Governor Bullock joined KCCI's Close Up Sunday Show to discuss his record of results on two of the most pressing issues facing America: beating the corrupting influence of dark money in politics and taking real action against climate change.
WATCH: Governor Bullock discusses his results in fighting dark money, climate change
Key Quotes: 
"Elections oughta be about people, not undisclosed money or corporations. When I became governor, My legislature is two-thirds Republicans, but we passed a law that said 90 days from an election, I don't care what your group's name is, but you have to disclose every dollar that's spent [...] If elected officials are going to be kinda like Nascar, sponsored by all kinds of people, we oughta at least know who's doing the sponsoring."
"I've seen the flooding that you've had here. In the west, where I live, the fire seasons are 78 days days longer than they were 30 years ago. We have to address climate change and we have to do it not just for today, but for our kids and grandkids."
"I think we can take immediate and durable action. Pulling out of the overall international climate accords, that really sets us back. Not even the auto industry wanted these emissions standards removed."
"The Federal Government has a partnership is doing base infrastructure, in taking the lead, and investing in research and development opportunities for renewable growth."
Steve Bullock, Bullock Campaign Press Release - On Iowa Sunday Show, Governor Bullock Highlights Record of Fighting Dark Money, Climate Change Online by Gerhard Peters and John T. Woolley, The American Presidency Project https://www.presidency.ucsb.edu/node/365034