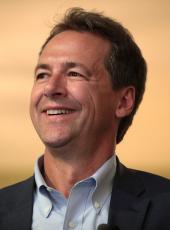 Bullock Campaign Press Release - BLOOMBERG TV: Governor Bullock On How He Can Beat Trump
Helena, MT – Montana Governor Steve Bullock joined Bloomberg's David Westin to talk about what voters are looking for in a candidate — someone who will beat Donald Trump and get the country back on track.
Governor Bullock is the only candidate in the race who has bridged divides to advance a strong progressive agenda in a Trump state. From expanding Medicaid to getting dark money out of Montana elections, Governor Bullock has demonstrated he can win back places Democrats lost in 2016 and ensure a fair shot for every American.
Watch: Governor Bullock on what voters want from a candidate
Key Quotes:
"Really missing from that stage was someone who won a Trump state — we need to win back places that we lost — someone who has governed with a Republican majority legislature to get progressive things done, and [someone who] has led the fight against dark money."
"People are looking for three things — who can beat Trump, who understands sort of what the average voter's life is like and will fight for them, and who can get something done. Look, and I think we need to make sure that we can both bring out Democrats, but win back places that we lost. If we don't win in places like Michigan, Wisconsin, Pennsylvania, we're going to end up in the same place. We can't have debates that are disconnected from the problems families face in their everyday lives."
"We've got to say, 'You can stay in your community. You can actually have a better life economically.' We have to have policies tailored to that. That's actually what I've done in Montana — we've actually led the nation in growth into the middle class."
Steve Bullock, Bullock Campaign Press Release - BLOOMBERG TV: Governor Bullock On How He Can Beat Trump Online by Gerhard Peters and John T. Woolley, The American Presidency Project https://www.presidency.ucsb.edu/node/365038