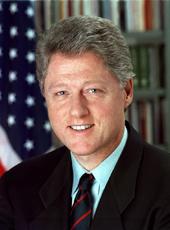 Briefing by Daniel Tarullo, Deputy Assistant to the President for Economic Policy
The Briefing Room
2:30 P.M. EST
MR. JOHNSON: Good afternoon, ladies and gentlemen. I'd like to welcome you to the White House Briefing Room. Your briefer today is Daniel Tarullo, Deputy Assistant to the President for Economic Policy, and he would like to talk to you for a few minutes about the agreement reached between the United States and Japan on air cargo service.
MR. TARULLO: Thank you. Earlier today in Tokyo, the United States and Japan agreed on the elements of an all-cargo air services arrangement, which would provide significant new opportunities to carriers from both countries.
This agreement was the culmination of talks which really had their origins last summer in Halifax, Nova Scotia, when the President met with Prime Minister Murayama, at which time the two leaders discussed a variety of economic issues, including the air services matters. At that time, as you may recall, we were engaged in a dispute with Japan over the rights of one of our carriers to operate to and through Japanese points.
Later that summer we concluded successfully our discussions with the Japanese, and the dispute in question was resolved. As part of the resolution of that dispute, both sides agreed that it would be profitable to undertake discussions to try to enlarge air services, all-cargo air services between the United States and Japan.
If I might give you just a brief summary, trying not to be technical, as to what this agreement will portend for us, it's the following. Essentially what we've done is to provide additional opportunities for all-cargo operators to operate between the United States and Japan, and for U.S. carriers to operate beyond Japan, and for Japanese carriers to operate beyond the United States.
What this means in practical terms is we have more flying by all-cargo carriers of both sides. From the U.S. point of view, it very importantly means that we'll have the opportunity to designate an additional carrier to fly all-cargo operations between the United States and Japan -- that is, one in addition to those currently authorized under the agreement.
This arrangement builds on the existing treaty arrangements we have with Japan in the area of civil aviation and all-cargo civil aviation. As we have indicated from last summer through the fall discussions and right up until today, we wanted to provide more opportunities to carriers from both sides, we want to liberalize as much as we possibly can, but we must do so with an insistence upon respect for the existing rights of our carriers.
And I believe what the negotiators have arrived at in Tokyo earlier today is an arrangement to provide more opportunities to carriers from both sides. It is responsive to the Japanese request for more opportunities for their carriers, and I believe it also takes note of the consistent position that has been stated by our administration that we will offer more opportunities as, and only as, existing rights are respected.
This -- one final note and then I'm happy to take a few questions. This, as all of you know, is one of the four economic topics which the President mentioned to Prime Minister Hashimoto when they recently met in California. And if the formal legal drafting of the arrangement takes place as scheduled, which would be early to mid-April, then we may well have the agreement actually signed or ready for signature by the time of the President's trip to Tokyo.
Q: Who are the two current carriers that you referred to, specifically?
MR. TARULLO: Our carriers?
Q: Yes.
MR. TARULLO: Right now, you have to -- not to try to be too technical, but you have to understand there are two groups of carriers when you're dealing with the Japan air services agreement. There are so-called incumbent carriers who have extensive rights, and there are so-called MOU, or memorandum of understanding, carriers who have more limited rights. Our incumbent carriers are Federal Express, Northwest, and United in the cargo area. Our current MOU carrier is UPS.
On the Japanese side, JAL is the incumbent carrier and NCA is the MOU carrier. As a result of this agreement, UPS will obtain additional rights and the United States will be able to designate an additional MOU carrier.
Q: The other, the additional Japanese carrier -- you only mentioned two -- will be --
MR. TARULLO: They have not asked for any such carrier, and I'm frankly not aware that there is a carrier which would be interested.
Q: Which cargo -- U.S. cargo company wants to be the additional carrier?
MR. TARULLO: Wolf, my expectation is that several may ask to get that designation. That's a matter that the Department of Transportation decides after the agreement is reached.
Q: So UPS moves up to become an incumbent --
MR. TARULLO: No, they don't move up to become an incumbent. They get additional rights, additional rights, which is --
Q: They'll be an MOU?
MR. TARULLO: Right, but they get rights to fly beyond Japan.
Q: What could they do now? What will they be able to do -- what does this get them?
MR. TARULLO: UPS? For UPS, most importantly, it means that they will be able to fly into probably Osaka. And, as importantly for them, it means they will have some, not unlimited by any means, but some rights to take cargo through Osaka and then on to additional point or points in Asia. That's what they can't do now. The Asian market is growing at about 10 percent a year -- that is, the beyond-Japan market -- and that's a very important development.
Q: Can they pick up the cargo in Osaka --
MR. TARULLO: Yes.
Q: -- or are they carrying it from the U.S. to Osaka?
MR. TARULLO: They can pick up cargo.
Q: So in essence there a Japanese carrier almost?
MR. TARULLO: No, they're not a Japanese carrier. They are a U.S. carrier that has rights that is operating cargo routes between the United States and Japan and also beyond to Asia. A lot of the cargo that will be on those planes will be from the U.S., but they will also -- will be able to pick up cargo.
Q: Does this increase the rights of the incumbent carriers? Do they get anything --
MR. TARULLO: The incumbent carriers do get some additional points, depending on the nationality in Japan and the United States.
Q: Additional points beyond Japan, in other words?
MR. TARULLO: No, no, no. Additional points in -- to fly to in Japan or to fly from in the United States or vice versa. As I mentioned, probably the most important point for us with respect to the incumbent carriers is that we simply want the existing rights respected. We have made that clear through the negotiations, and that's our expectation of what will happen.
Q: You had come into this wanting to negotiate an open-skies treaty with Japan. You didn't get that. What caused you to back off and accept less than the administration originally wanted?
MR. TARULLO: Well, the proposal we led with was a phased or staged open-skies arrangement. Now, when we led with that proposal, I will tell you in all honesty that I would have been surprised had the Japanese government been interested in pursuing it. They have indicated that they're not interested in an open-skies arrangement, phased or otherwise.
However, because it is a core part of U.S. international aviation policy that we want as much liberalization as we can get, because of our belief that that is best for travellers, business, and U.S. airlines, we wanted to begin with what our principal position is -- that this is our preferred course. When it became apparent that the Japanese government was not interested in that -- and that was apparent relatively soon -- we then proceeded to propose additional rights which would up the amount of flying on both sides, even though it falls short of the very extensive liberalization indicated in an open-skies agreement.
Q: I wonder if I could follow up. What happens next, both on the air cargo side and the passenger side? Are you expecting to be able to build on this in the passenger market?
MR. TARULLO: There are -- no decisions about passenger talks have been made.
Q: What price tag could you put on the value of this deal, not only for UPS but for the incumbent carriers?
MR. TARULLO: I think you have to ask them, to tell you the truth. I don't --
Q: Are we talking big money here? I mean, is this a big opportunity?
MR. TARULLO: Yes. Yes, you're talking -- when you're talking about trans-Pacific flying, you are talking about a lot of money. Now, the figure I'm going to give you -- don't misunderstand. This is not the figure for this agreement. But this is a $10 billion a year market we're talking about.
Q: Does this refer to the -- when you say Northwest and United, do they have cargo in their passenger planes, or do they have a separate cargo fleet?
MR. TARULLO: No, we're referring here to all-cargo operations. You're right, that there is cargo in the so-called bodies. When you're flying there is some cargo underneath you as a passenger. That -- those operations are not covered by this agreement. This covers only all-cargo services.
Q: So the main -- in practical terms UPS wins and the three other U.S. carriers will win something but not as extensively as UPS.
MR. TARULLO: Because they have very -- they have much more extensive existing rights.
Q: This is a good -- this is a bonanza for UPS.
MR. TARULLO: I think this is a good thing for UPS. It is a good thing for the incumbent carriers. And most of all, it is a good thing for American business and passengers.
Q: And it's also a good thing for the additional MOU carrier that wins --
MR. TARULLO: Absolutely.
Q: How do you determine whether it's going to be -- which company it will be?
MR. TARULLO: It's a Department of Transportation proceeding, which is based upon submissions from the carriers which are interested which make their case for why they are best able to serve and thereby gain the best economic benefit for the country.
Q: And what do the Japanese win out of this?
MR. TARULLO: They acquire extensive additional rights for both JAL and NCA, although those rights are different because of JAL being the incumbent carrier. Their interest has been in having additional rights to fly to the United States. We have said all along we are prepared to offer those rights on the conditions that existing rights are respected and that we did get additional rights for our carriers -- our MOU carrier and for another designee.
But they get a lot -- they do get significantly more rights to fly to the United States.
Q: What did they get?
MR. TARULLO: Forgive me for checking notes on this, but I want to be accurate. Let's see, JAL may serve three additional points in the United States, and it may operate unlimited frequencies on the points that it serves. That means, if they wanted to fly every day rather than three times a week, for example, they would be permitted to do that.
Q: How many points do they have now?
MR. TARULLO: I don't know the answer to that.
Q: It's up to them to decide? They can choose the three additional?
MR. TARULLO: Yes.
Q: Can they pick up U.S. cargo and take it back to Japan in competition with Fed Ex and the others?
MR. TARULLO: Of course, of course. Although one thing you should understand about this market -- it's somewhat segmented between bulk cargo carriers and overnight and express carriers. And in fact, most of what JAL and NCA do tends to be bulk.
Q: And the U.S. carriers have unrestricted rights in their new cities as well; is that correct?
MR. TARULLO: That's correct. The Japanese MOU carrier may operate an additional 18 frequencies to its existing four points in the United States and to an additional three points in the United States.
Q: So that's JAL?
MR. TARULLO: No, MOU is currently NCA, Wolf. Currently the MOU carrier is NCA. JAL has much more extensive rights at present, but even though they get some additional rights. Now --
Q: Can you give us the same breakdown for the U.S carriers -- incumbents on the one hand and --
MR. TARULLO: Yes, just let me give you one more. There is a provision which would allow an additional Japanese carrier that isn't serving the United States to operate to any one of the points authorized for service by the MOU carrier. I simply don't know, as a factual matter, whether there is any such carrier interested.
Now, from the U.S. point of view, the 1952 incumbent carriers, of course, may operate from any U.S. points. United States may select three additional points in Japan for service by the incumbent carriers. And UPS may now serve Kansai airport in Osaka, with up to 12 weekly frequencies, which, with different qualifications, may fly beyond Osaka to additional points in Asia. And a new U.S. carrier not now serving Japan may operate six frequencies a week from any U.S. points to any one point in Japan other than Tokyo, which is a theoretical rather than practical barrier.
Q: When you say "frequencies," is that as good a term for flight?
MR. TARULLO: Yes, it is. And then my operate six weekly frequencies beyond that point in Japan to some other point in Asia on -- sorry to get technical here again -- what is called a blind-sector basis, which means they can't pick up anything in Japan. That's -- there are more details which will be available -- I don't know if we've got a fact sheet. DOT is putting out a fact sheet which will give you more details. Those are the basics of the agreement.
Q: Any other progress in the three other points the President raised in California when he met with the Prime Minister?
MR. TARULLO: I don't have any news for you on any of those. Discussions have certainly continued in each of the areas, but there is nothing additional I have for you on that.
Q: What are those three other points?
MR. TARULLO: Film, semiconductors, and insurance.
Q: One quick question. The U.S. incumbents are now allowed to fly to how many points in Japan?
MR. TARULLO: U.S. incumbents now? They have been flying to -- I don't know how many they are authorized to fly to. They have been flying to Tokyo and Osaka.
Q: I'm vague on what I've read about this, but Fed Ex has plans for an Asian hub that had been imperiled --
MR. TARULLO: They have an Asian hub, which has been opened in Subic Bay in the Philippines.
Q: And how had this been imperiled by this, by the lack of an agreement?
MR. TARULLO: You're alluding to -- I think you're alluding to the fact that at some point during these discussions there was a suggestion from the Japanese side that if the agreement was not concluded along lines that they would consider satisfactory, that they would withdraw the rights granted, which -- the rights that were recognized last summer for Fed Ex to fly through Japan to Subic Bay.
We indicated at that time that that was simply an unacceptable item to be on the negotiating table, and the Japanese took it off the table. So that -- that is of some -- that was some weeks ago and did not play a part in the current agreement.
THE PRESS: Thank you.
END 2:46 P.M.
William J. Clinton, Briefing by Daniel Tarullo, Deputy Assistant to the President for Economic Policy Online by Gerhard Peters and John T. Woolley, The American Presidency Project https://www.presidency.ucsb.edu/node/270313