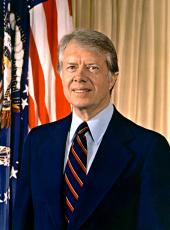 Board for International Broadcasting Nomination of John A. Gronouski To Be a Member of the Board.
The President today announced that he will nominate John A. Gronouski of Texas to be a member of the Board for International Broadcasting. The President also indicated that if confirmed by the Senate, Gronouski would be designated Chairman of the Board. Dr. Gronouski is professor of economics and public affairs at the LBJ School of Public Affairs of the University of Texas at Austin. He organized this school in 1969 and served as its dean until 1974.
Born in Dunbar, Wis., on October 26, 1919, Dr. Gronouski holds a Ph.D. from the University of Wisconsin. Long active in the Democratic Party, he was appointed Postmaster General by President Kennedy and served in that position until November 1965 when President Johnson appointed him Ambassador to Poland. He served in Warsaw until 1968.
The Board for International Broadcasting was established as a result of the recommendations of the Milton Eisenhower Commission which reviewed the mission of Radio Free Europe and Radio Liberty in 1972-73. Dr. Gronouski served as a member of this Commission. The Congress enacted the Commission's recommendations as the International Broadcasting Act of 1973, Public Law 93-129, on October 19, 1973.
The International Broadcasting Act of 1973 set up the Board "to provide an effective instrumentality for the continuation of assistance to Radio Free Europe and Radio Liberty and to encourage a constructive dialog with the peoples of the Union of Soviet Socialist Republics and Eastern Europe." Members of the Board, according to the act, are to be "selected by the President from among Americans distinguished in the fields of foreign policy or mass communications" and may not be concurrently full-time employees of the U.S. Government.
In addition to providing funds for operation of the radios, the Board is required "to assess the quality, effectiveness and professional integrity of their broadcasting within the context of the broad foreign policy objectives of the United States." At the same time it is charged with keeping in mind "the necessity of maintaining the professional independence and integrity" of these stations. In addition to receiving congressionally appropriated funds for the stations, the Board is authorized to receive funds from private sources.
Active in many fields of academic endeavor and public affairs, Dr. Gronouski is married to the former Mary Louise Metz and has two daughters, Stacey and Julie.
Jimmy Carter, Board for International Broadcasting Nomination of John A. Gronouski To Be a Member of the Board. Online by Gerhard Peters and John T. Woolley, The American Presidency Project https://www.presidency.ucsb.edu/node/243550