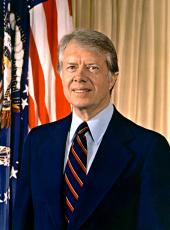 Black Music Association Remarks at a White House Dinner Honoring the Association.
How many of you know what month this is? Somebody said June. Right on! This is Black Music Month.
As you know, the purpose of the Black Music Association is to preserve, protect, and perpetuate black music on an international basis. And the time to do it on an international basis is right now at the White House, the center of your Government, and Rosalynn and I are very glad to have you here.
The Black Music Association is not an old organization, but it was one that was organized at the right time in the fight place for the fight reason. It's only a year old, but I understand it already has 2,000 members. And tomorrow in Philadelphia, you'll have your founders meeting in a very appropriate place.
As you know, our own Nation was founded in Philadelphia. And I was thinking this afternoon that if we had had the Black Music Association organized 203 years ago, so that Benjamin Franklin and Thomas Jefferson and George Washington could have just heard some of this music at the very beginning, our country could have avoided a lot of trouble and a lot of heartache and a lot of struggle and a lot of suffering and a lot of division, and would be even greater than it is now.
It's important, in my opinion, for our own Nation and the rest of the world to know the importance that the President of the United States and his family and friends attach to black music, because in many ways, the feelings of our own black citizens throughout the history of our country has been accurately expressed in the music. And it presents a kind of history of our Nation when you go back and see the evolution of black music. It's meant a lot to me as a young boy and a young man and adult in Georgia.
I won't make the other States feel inferior by naming all the black musicians that have come out of Georgia. I'll be nice to you this afternoon. But I think that it's accurate to say that in many ways, the deep feelings of pain and suffering, of alienation and a sense of being an outcast in one's own community, in one's own nation, a sense of hope and a sense of unity, a sense of deep religious faith, a sense of vision, sense of beauty has been expressed very deeply and in forceful terms in black music not only for me, from the South, but for all Americans, both black and white.
And it's obvious that this has not been limited to the United States of America. There's been a transcendent effect of black music that has never paid any attention to international borders. I think black music is a way to tie the black people of our country to their own ancestors and to tie the United States to other nations of the world. It's been an avenue for understanding and friendship that has been effective when politicians could not succeed.
In many ways, you've expressed the hopes of our country—life, even when slavery was characteristic of black people, liberty and a struggle for it, when it seemed to escape generation after generation of struggling people. And no one can doubt that black music has always exemplified the pursuit of happiness.
So, in many ways I think that you have not only mirrored and described what was happening in our country, but you have presented a guide in times of despair and failure to what our country ought to be.
We are very deeply grateful tonight to have performers who in a very brief way can show the progress of black music during this historical time that I have just mentioned. There would be no possible way to choose enough different black musicians to give a total picture of what is meant by what you represent.
Sunday afternoon I went to a memorial service for A. Philip Randolph. I sat there and listened to Leontyne Price sing "The Lord's Prayer." When she approached the end of the song and hit a very high note, I said, "This is impossible for a human being to do." And then she raised about a half an octave and hit another note and cold chills went down my spine. And then she hit the final note and tears burst out of my eyes and flowed down my face; and I was not the only one. And although she hadn't quite finished the song, because she had to say "Amen," the entire audience, hundreds of people, broke out into simultaneous applause-just one type of music that is performed superbly.
And tonight we have four great artists. I'm not going to describe to you their biographies, because it's in your program. But we'll have Sara Jordan Powell, Chuck Berry, my long-time friend Billy Eckstine, Evelyn "Champagne" King, and Andrae Crouch to perform for us.
And I've learned one thing about black music, and that is that people who talk before the performance are not appreciated nearly so much as the performance itself. So, I'm ready now to join the audience, but to express on behalf of the 220 million people in our country my thanks to superb black musicians throughout the history of our country and my congratulations to the Black Music Association for spending your first birthday party here at the White House with us.

Thank you and congratulations.
Note: The President spoke at 7:45 p.m. on the South Grounds of the White House.
Jimmy Carter, Black Music Association Remarks at a White House Dinner Honoring the Association. Online by Gerhard Peters and John T. Woolley, The American Presidency Project https://www.presidency.ucsb.edu/node/249945