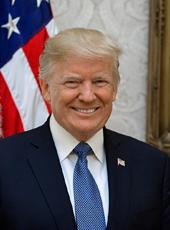 Bill Announcement
On Monday, January 14, 2019, the President signed into law:
H.R. 672, the "Combating European Anti-Semitism Act of 2017," which expresses the sense of the Congress that it is in the United States national interest to combat anti-Semitism at home and abroad;
H.R. 4174, the "Foundations for Evidence-Based Policymaking Act of 2018," which improves evidence-based policy through strengthening Federal agency evaluation capacity; furthering interagency data sharing and open data efforts; and improving access to data for statistical purposes while protecting confidential information;
H.R. 7279, the "Water Infrastructure Improvement Act," which amends the Federal Water Pollution Control Act to provide for the use of green infrastructure to reduce stormwater flows;
H.R. 7318, which eliminates the deadline for the appointment of members to the Public Buildings Reform Board and revises the Board's termination date, among other things;
H.R. 7319, which amends the Federal Assets Sale and Transfer Act of 2016 to provide flexibility with respect to leaseback of certain Federal real properties;
S. 512, the "Nuclear Energy Innovation and Modernization Act," which provides for the development of expertise and regulatory processes needed for the innovation and commercialization of advanced nuclear reactors;
S. 1023, the "Tropical Forest Conservation Reauthorization Act of 2018," which reauthorizes and modifies the Tropical Forest Conservation Act;
S. 1158, the "Elie Wiesel Genocide and Atrocities Prevention Act of 2018," which directs the Department of State to provide training to Foreign Service officers on preventing and responding to genocide and other atrocities; and
S. 1580, the "Protecting Girls' Access to Education in Vulnerable Settings Act," which supports access to primary and secondary education for displaced children, especially girls.
Donald J. Trump, Bill Announcement Online by Gerhard Peters and John T. Woolley, The American Presidency Project https://www.presidency.ucsb.edu/node/336304