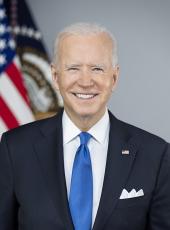 Biden Campaign Statement on Trump's Press Conference
In response to President Trump's press conference today, Biden for President Deputy Campaign Manager and Communications Director Kate Bedingfield released the following statement:
"President Trump's preposterous claim tonight that he has a 'relentless focus' on COVID-19 rings hollow when stacked up against the months he has spent dismissing the incredible damage that's been caused by this virus — even repeating tonight that it will simply 'disappear' after it's left 140,000 Americans dead and our economy reeling.
"And even now as America grapples with the worst COVID-19 outbreak in the developed world, Donald Trump refuses to take the steps we know we must to finally stop its spread. President Trump is even blocking badly-needed funding to bolster the CDC and boost testing and tracing capabilities — despite the fact that communities around the country face critical shortages of personal protective equipment and longer and longer waits for testing.
"Rather than confronting this crisis head-on, Donald Trump has simply waved the white flag of defeat with his advisers saying that Trump 'doesn't want to be distracted by it' and one top Republican even admitting that the President is 'bored' of dealing with COVID-19.
"This virus isn't 'bored' with us, Mr. President. And every day that you refuse to take the basic steps Vice President Biden has laid out to stop COVID-19 is another day that it will keep killing Americans, weighing down our economy, and devastating our communities. The time for empty promises is over, the time to act is now."
Joseph R. Biden, Biden Campaign Statement on Trump's Press Conference Online by Gerhard Peters and John T. Woolley, The American Presidency Project https://www.presidency.ucsb.edu/node/345308