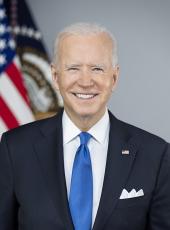 Biden Campaign Statement on President Trump's Victory Lap on His Failed Trade Deal with China
In response to President Trump's false claim today today that China is "more than living up to" their commitments in the phase one trade deal negotiated by his administration, Tony Blinken, Biden for President Senior Foreign Policy Advisor, released the following statement:
"President Trump's hollow trade deal with China, and the disastrous tariff war before it, helped drive manufacturing into recession — even before his historic mismanagement of COVID-19. It devastated farmers across the country, and it did nothing to address the Chinese government's unfair trade practices.
"The Chinese government has outmaneuvered President Trump at every turn. And instead of matching his tough talk with real action, President Trump has backed down again and again. Today is no different: he claimed this morning that China is "more than living up to" their side of the trade deal, even though the facts and his own administration say the opposite.
"President Trump's weakness with the Chinese government is sadly nothing new: he gladly parroted President Xi's efforts to downplay the coronavirus even as it spread globally and repeatedly praised the Chinese government for its cooperation and transparency at the very time it was denying critical information and access to the international community, despite repeated warnings from Joe Biden and the intelligence community.
"President Trump has condoned China's human rights violations in Hong Kong and Xinjiang, and he even asked for the Chinese Communist Party's help in his re-election campaign.
"From his first day in office President Trump's policies have strengthened China's hand and weakened America's by denigrating our alliances, pulling America back from the world, abandoning our values and tarnishing our own democracy. Vice President Biden will stand up to President Xi to fight for American values and interests, and his Build Back Better plan will make critical investments in manufacturing, innovation, and reshoring vital supply chains to ensure that America's economy, workers, and businesses can lead the world for generations to come."
Joseph R. Biden, Biden Campaign Statement on President Trump's Victory Lap on His Failed Trade Deal with China Online by Gerhard Peters and John T. Woolley, The American Presidency Project https://www.presidency.ucsb.edu/node/345271