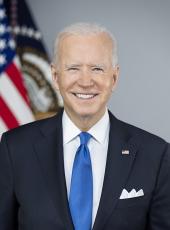 Biden Campaign Statement on Betsy DeVos Calling COVID-19 a "Good Thing" for Our Schools
In response to Secretary of Education Betsy DeVos' comments today that COVID-19 was a "good thing" for our kids' schools, Biden for President Deputy Campaign Manager and Communications Director Kate Bedingfield released the following statement:
"The Trump administration keeps inadvertently telling the American people what they really think. Yesterday, Kellyanne Conway confirmed that the administration views violence that Donald Trump is stoking as a political asset. And today, Betsy DeVos told us that COVID-19 was actually a "good thing" for our schools because it would further assist her assault on public education.
"Millions of kids across America are forced to stay home from school because Donald Trump completely failed to handle this virus, and Betsy DeVos has demonstrated no interest in dealing with the ramifications of that on a whole generation's education, or in supporting the incredible educators who are doing their best to teach their students in the face of unprecedented challenges. For DeVos to rejoice is an illustration of how divorced Trump and his administration are from the reality of this pandemic — a pandemic that they have consistently failed to take seriously and adequately address at every step of the way: from testing and protective equipment to preparing our schools. Meanwhile our country continues to pay an excruciating price in lives and livelihoods shattered.
"The real picture of Trump's America isn't the alternate reality he tried to conjure with his superspreader event on the South Lawn last night — it's empty classrooms and school hallways, it's families stretched to the financial breaking point, it's the incalculable loss for our children of another semester missed, and it's nearly 1,000 American lives lost every day."
Joseph R. Biden, Biden Campaign Statement on Betsy DeVos Calling COVID-19 a "Good Thing" for Our Schools Online by Gerhard Peters and John T. Woolley, The American Presidency Project https://www.presidency.ucsb.edu/node/345162