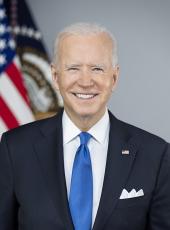 Biden Campaign Press Release - Team Trump Can't Land a Punch
The Trump campaign has spent months flailing in its attempts to attack Joe Biden, and with the announcement yesterday of his historic running mate, Kamala Harris, nothing has changed.
Team Trump can't land a punch because they can't even get their own made-up story straight.
Donald Trump's presidency is melting down. His failed, divisive, erratic leadership has cost over 160,000 American lives, tens of millions of jobs, and left the United States the hardest-hit country in the world by COVID-19.
As he struggles to divide the American people, in a desperate attempt to distract from his devastating mismanagement of this crisis, he's only further discrediting himself.
The Trump team even mismanaged their own response to the announcement of Kamala Harris as Joe Biden's running mate, dumbfounded by the selection of a strong and experienced VP who's ready to lead on Day 1. Senator Harris has gone toe-to-toe with Trump officials, asking the tough questions, demanding the truth, and not stopping until she gets answers for the American people.
They know Sen. Harris' track record of holding the Trump Administration to account in the halls of Congress, and they're terrified of her doing it on the campaign trail.
Here's a round-up of some of Team Trump's most embarrassing fails to smear Sen. Harris:
NBC's Meet the Press: Republicans had months to prepare for a Harris pick but their message is muddled

"We heard versions of every frame yesterday afternoon, sometimes even in the same press release."
"But now, Republicans have been struggling for months to settle on one coherent argument against Biden. And despite having months to prepare for an argument against his veep, the same muddle is happening with Harris."
The Guardian: Donald Trump and his campaign launch scattergun attacks on Kamala Harris

"But the Trump campaign struggled to reconcile an apparent contradiction: accusing her of being an overzealous criminal prosecutor in the past on the one hand, while suggesting that she and Biden would neglect law and order on the other."
BuzzFeed: Trump's Attempted Attacks On Kamala Harris Are All Over The Place

"President Donald Trump tested out disorganized lines of attack against Kamala Harris on Tuesday, just about an hour after Joe Biden announced she would be his running mate."
"During a call with reporters after the president spoke, Trump's reelection campaign gave mixed messaging on Harris's record as attorney general in California. When asked how the fight for suburban women could potentially play out, Sen. Marsha Blackburn of Tennessee said voters understand they'll be safer with Trump. Blackburn then deferred to senior campaign adviser Katrina Pierson's earlier comments, conversely saying Harris was being overly tough on crime."
The New York Times: Trump called her 'nasty.' Tucker Carlson mangled her name. Attacks on Harris quickly got personal.

But when he finally announced her selection on Tuesday, Mr. Trump and his allies appeared to be caught without a coordinated game plan, lurching from one attack to another.
Hours after calling Ms. Harris the "most liberal" member of the Senate, the Republican National Committee sent out an email blast saying that progressives hated her because she was not progressive enough.
Politico: Team Trump assails 'Phony Kamala,' while privately acknowledging her appeal

Minutes after Joe Biden announced Kamala Harris as his running mate Tuesday, President Donald Trump and his allies rolled out the attack playbook they've used on every potential Democratic vice presidential candidate: She's too extreme for America.
Trump on Tuesday described Harris as his No. 1 choice for Biden's running mate, weeks after saying, "I think she'd be a fine choice."
But he and his aides focused their line of attack through the same lens they've used on other potential running mates, perhaps indicating after months of research on Harris they don't have much else to criticize.
CNN: Fox News threw everything but the kitchen sink at Kamala Harris

Fox News was in full attack mode Tuesday night, throwing everything but the kitchen sink at Kamala Harris. From depicting her as a "radical running mate" to mocking the pronunciation of her name to suggesting Joe Biden didn't actually select her himself, the conservative network's prime time lineup was in overdrive.
Forbes: Republicans Struggle To Find Consistent Line Of Attack Against Kamala Harris

But that line of attack was contradicted by Trump hours later at a briefing in which he cast Harris as a leftist through and through, asserting she is "very big into raising taxes and "in favor of socialized medicine," declaring that Harris is "about the most liberal person in the U.S. Senate."
After the Trump campaign spokesperson Katrina Pierson accused Harris of trying to "bury her record as a prosecutor in order to appease the anti-police extremists controlling the Democrat Party," the Republican Party sent out an email highlighting left-wing attacks on Harris' prosecutorial record as overly aggressive.
Pierson and Sen. Marsha Blackburn (R-Tenn.) even contradicted each other in the same call with reporters.
CNN: Trump reverts to stereotypes as campaign fumbles to respond to Harris pick

Facing his first question on Harris during a White House news conference, Trump seemed unfamiliar with the line of attack his campaign had prepared to use on her -- and that he had tweeted himself only a few minutes earlier.
One dilemma the campaign faced immediately Tuesday was whether to portray Harris as an overzealous prosecutor or anti-police leftist. In its first statements on Biden's pick, the campaign did both.
ABC: 'Liberal?' 'Phony?' 'Nasty?': Trump, GOP struggle on how to attack Harris

President Donald Trump wasted no time Wednesday continuing to attack Sen. Kamala Harris, saying former Vice President Joe Biden's vice presidential pick is "the kind of opponent everyone dreams of!"
But that criticism was relatively muted and at his White House news conference Tuesday, Trump reverted to his familiar line of attack on powerful women, calling her "nasty," just as he notably did with his 2016 presidential opponent, former Secretary of State Hilary Clinton, and what he's said as well about House Speaker Nancy Pelosi and late former first lady Barbra Bush.
Even as Trump attacked Harris as a liberal, campaign aide Brad Parscale said Harris would be rejected by liberals.
After 2010, almost all of Donald Trump's political donations were going to Republicans -- but he was still giving money to Harris.
When asked by the New York Times in February whether there was anyone in the immense 2020 Democratic field who he thought might be his toughest opponent he cited Harris.
"I would say, the best opening so far would be Kamala Harris," Trump responded. "I would say, in terms of the opening act, I would say, would be her."
Reuters: Why Kamala Harris may prove an elusive target for Trump

Scrambling for something to alter the trajectory of the race, Trump and his Republican allies quickly launched a fusillade of attacks at Harris moments after the pick was announced.
Within minutes of Biden's announcement on Tuesday, Trump had called Harris "nasty," "horrible" and "disrespectful," while his campaign painted her as an extremist who would yank the moderate Biden to the left.
But there is little evidence at the moment that suggests that the public views Harris, a former California prosecutor and attorney general with strong ties to the Democratic establishment, as a radical.
Privately, however, Trump's aides acknowledged Harris would be a formidable adversary. One senior White House official said that the Harris pick means Vice President Mike Pence would have a tough debate in October.
Washington Post: Radical or moderate? Trump paints Democratic ticket as both

President Donald Trump's campaign is struggling to define Sen. Kamala Harris, Democrat Joe Biden's newly announced running mate. Biden's decision to choose Harris — who ran for president last year in the same pragmatic vein as Biden did and is now the first Black woman to compete on a major party's presidential ticket — has further complicated the Trump campaign's crude efforts to depict Biden as out of step with the country as Trump continues to lag in the polls.
In his own response, Trump, who saw Harris as a potentially formidable challenger had she won the Democratic nomination, has reverted to his usual playbook, resorting to sexist and racist attacks aimed to stoke white grievance. He repeatedly called Harris "nasty" and has leaned into appeals that appear stuck in a fictionalized version of the 1950s.
Although Trump told reporters in the White House briefing room that the California senator had been his "No. 1 draft pick," the candidate he felt would be most beneficial to his own chances, that's not what he said privately less than 48 hours earlier.
Trump's campaign has been plotting for almost two years to characterize the Democratic nominee and running mate as beholden to the "radical left," though that met its greatest test with Biden, who remains well known and relatively well liked among voters after a 40-plus-year career in Washington.
Washington Post: Is Kamala D. Harris a liberal extremist or a snub to liberal extremists? The GOP can't decide.

Trump backers' response to Harris's selection has been somewhat dizzying. They have mostly painted her as the kind of radical that McDaniel did, even labeling her a socialist. But as with the man whose ticket Harris is joining, they have offered mixed messages by also suggesting she is a disappointment to Sanders supporters and even a tool of Wall Street.
If the attack seems familiar, it is because it has essentially been copy-and-pasted from the GOP strategy against Biden.
The issue with the disparate attacks on Harris is that the GOP cannot seem to decide whether she is a fellow empty vessel or the leader of the forces within that Trojan horse who will soon spill out.
The confusing and contradictory lines of attack reflect the GOP's dilemma in running against Biden and Harris.
Trump himself doesn't seem to quite know how to attack Harris. And his campaign has regularly employed what The Post's Jacqueline Alemany dubbed a "spaghetti-on-the-wall campaign." They are apparently trying to see which of these disparate lines of attack sticks.
CBS: Trump and Republicans send mixed messages on Biden running mate Kamala Harris

But the messaging on Harris has been mixed, with GOP lawmakers, campaign officials and political operatives trying out different lines of attack that were months in the making. Mr. Trump and Vice President Pence diverged in their immediate reactions to the news, responding within minutes of each other.
For his part, Mr. Trump strung together a list of cookie-cutter attack lines against Harris, routine claims the he frequently lodges at Democrats.
In an interview with Fox News' Sean Hannity Tuesday, Mr. Trump repeated his generic case against Harris before turning the conversation to former rival Hillary Clinton and the Russia dossier.
Washington Post, Opinion: Phony? Radical? Republicans have no idea how they want to attack Kamala Harris.

Sen. Kamala D. Harris (D-Calif.) has yet to appear in public or sit for an interview since her selection as the Democratic nominee for vice president, but she has already discombobulated the right-wing attack machine.
Before this is over, Harris will be a peacenik and warmonger; a tool of Big Oil and a radical environmentalist; and a somnolent senator and a vicious slayer of poor, defenseless White nominees
It is not as if Harris was a surprise pick. You would have thought the Trump team would have prepared a coherent (albeit disingenuous) line of attack. Instead, it once more shows its disorganization, not to mention its racist underbelly and deep misogyny.
Deadline: Donald Trump Attacks Kamala Harris As "Nasty" And "Disrespectful," But He Also Contributed To Her Past Campaign

He also called her "the meanest" and "disrespectful."
"But that is a contrast to what Trump has said previously about Harris. Two weeks ago, he told a reporter that she would be a "fine choice." Last year, shortly after she launched her campaign, he offered some light praise, sizing up her campaign launch as better than other Democrats."
The Bulwark: Team Trump Hasn't Figured Out How to Attack Kamala

So to sum up:
Kamala Harris is a cop—
—who is an anti-police extremist.
A radical leftist—
—who is causing a "revolt" among Bernie voters.
A phony—
—who was too nasty to Joe Biden.
Got that?
The Trump campaign has 83 days left to figure it out
Heidi Przybyla, NBC News Correspondent
https://twitter.com/HeidiNBC/status/1293373268423041030
Steve Peoples, AP Chief Political Reporter
https://twitter.com/sppeoples/status/1293579686145069061
Joseph R. Biden, Biden Campaign Press Release - Team Trump Can't Land a Punch Online by Gerhard Peters and John T. Woolley, The American Presidency Project https://www.presidency.ucsb.edu/node/345264