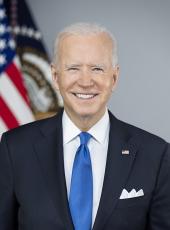 Biden Campaign Press Release - Joe Biden's Agenda for the Indian American Community
As Senator, as Chairman of the Senate Foreign Relations Committee, and as Vice President, Joe Biden has supported Indian Americans and a strong friendship between India and the United States. Diverse and vibrant communities of Indian Americans enrich the fabric of our nation in every state of the union. As President, Biden will work in partnership with these communities; celebrate their extraordinary contributions to America's success, prosperity, and safety; listen to Indian Americans' needs; and put in place policies that address their priorities. Indian Americans, like all Americans, are deeply invested in the core elements of our future -- education, access to high-quality, affordable health care, addressing the climate crisis, and reforming and modernizing our immigration system in a way that aligns with our values. Biden will ensure that South Asian Americans are represented in his administration, starting with his Vice Presidential nominee, Senator Kamala Harris, whose mother emigrated from India to study and build a life in the United States. Our government will reflect the diversity of the United States, and Indian American voices will be included in shaping the policies that impact their communities.
From fighting COVID-19 to building our economy back better to reforming our system of immigration, a Biden-Harris Administration will be one that Indian Americans can count on.
Stem the Rising Tide of Hate and Bigotry
Since Donald Trump took office, the number of hate crimes that take place across our country has greatly increased, according to the FBI's hate crime statistics. We have a President who, in clear language and in code, encourages and emboldens prejudice and hatred -- and that's dangerous.
Indian Americans of all backgrounds -- Hindu, Sikh, Muslim, Jain, and others -- have been subjected to bullying and xenophobic attacks and need now, more than ever, a reassurance that our leaders in Washington will have their backs.
During the Obama-Biden Administration, the FBI expanded its hate crime statistics program to include Sikhs, Hindus, and Buddhists. As President, Biden will directly address the rise in hateful attacks and enact legislation prohibiting someone convicted of a hate crime from purchasing or possessing a firearm. Biden will appoint leaders at the Department of Justice who will prioritize the prosecution of hate crimes, and he will order his Justice Department to focus additional resources to combat hate crimes -- including religion-based hate crimes -- and to confront white nationalist terrorism. He will also seek legislation that increases the potential sentence for certain hate crimes that occur in houses of worship and other religious community sites, such as gurudwaras, mandirs, temples, and mosques. And, he will use his executive power to ensure that the Department of Justice pursues such heinous acts of violence against houses of worship to the fullest extent of the law.
Address the Security Needs of Houses of Worship
In 2012, the Sikh community suffered a terrible tragedy when a white supremacist opened fire in an Oak Creek, Wisconsin, gurdwara, ultimately killing seven and wounding four. In January 2019, a Hindu mandir was the victim of a horrific act of vandalism and destruction, with windows shattered and xenophobic messages spray-painted across the walls. A murti (sacred image) was defaced and a knife was stabbed into a chair. Biden understands that mandirs, mosques, gurudwaras, and temples are sacred spaces and that acts of vandalism and destruction gnaw at a community's sense of belonging and undermine its ability to freely and safely worship. America was built on a foundation of religious freedom and, as President, Biden will redouble our efforts to end hate-filled acts of violence and intimidation and help us to reach our highest values. He will also ensure that places of worship have access to robust and direct security support from the federal government. We cannot leave our faith-based organizations to rely on donations and internal fundraising efforts to guard against deadly attacks. Biden will work with Congress to attain an immediate and substantial increase in direct security grant funding to faith-based organizations through the Department of Homeland Security's (DHS) Nonprofit Security Grant Program (NSGP).
Restore the American Dream for all Americans
Biden is running for President to rebuild the backbone of America — the middle class — and make sure that this time everyone comes along. He knows that the middle class isn't a number — it's a set of values: owning your home, sending your kids to college, being able to save and get ahead. He will ensure all workers are treated with dignity, and receive the pay, benefits, and workplace protections they deserve. Biden is committed to a stronger, more inclusive middle class. Many Indian Americans are small business owners, entrepreneurs, and inventors. Biden will spur public-private investment through a small business opportunity plan that will fund successful state and local investment initiatives and make permanent the highly effective New Markets Tax Credit, expand access to low-interest business loans, and eliminate barriers to technical assistance and advisory services by investing in a national network of cost-free business incubators and innovation hubs.
Secure our Values as a Nation of Immigrants
As a largely immigrant community, but in some cases with American roots reaching back generations, Indian Americans know firsthand the strength and resilience that immigrants bring to the United States of America. But President Trump has waged an unrelenting assault on our values and our history as a nation of immigrants. It's wrong, and it stops when Biden is president. Biden will rescind Trump's "Muslim ban" on day one and reverse the detrimental asylum policies that are causing chaos and a humanitarian crisis at our border. He will immediately begin working with Congress to pass legislative immigration reform that modernizes our system, with a priority on keeping families together by providing a roadmap to citizenship for nearly 11 million undocumented immigrants — including more than 500,000 from India.
Biden will support family-based immigration and preserve family unification as a core principle of our immigration system, which includes reducing the family visa backlog. He will increase the number of visas offered for permanent, work-based immigration based on macroeconomic conditions and exempt from any cap recent graduates of PhD programs in STEM fields. And, he will support first reforming the temporary visa system for high-skill, specialty jobs to protect wages and workers, then expanding the number of visas offered and eliminating the limits on employment-based green cards by country, which have kept so many Indian families in waiting for too long.
Biden will restore and defend the naturalization process for green card holders. And, he will increase the number of refugees we welcome into this country by setting the annual global refugee admissions target to 125,000 and seek to raise it over time commensurate with our responsibility, our values, and the unprecedented global need. He will also work with Congress to establish a minimum admissions number of 95,000 refugees annually. Biden will remove the uncertainty for Dreamers by reinstating the DACA program and explore all legal options to protect their families from inhumane separation. And, he will end workplace raids and protect other sensitive locations from immigration enforcement actions. No one should be afraid to seek medical attention, or go to school, their job, or their place of worship for fear of an immigration enforcement action.
Streamline Processing for Religious Worker Visas
Many Indian Americans belong to faith communities that rely on the counsel, support, and wisdom of scholars and religious specialists, who may be foreign nationals travelling to the United States on a temporary religious worker (R-1) visa. For many Indian American organizations, the submission and review process for religious worker visas requires substantial administrative and financial resources. Moreover, processing times can result in travel delays, which adversely impact these communities across the country. Biden will direct the State Department and U.S. Citizenship and Immigration Services (USCIS) to identify methods and programs for streamlining the review of religious worker visas submitted by any faith-based organizations with a reliable track record of faithfully utilizing the religious worker visa program.
Eliminate Language Barriers for the Indian American Community
Language barriers to vital services and resources can prevent limited English proficient Indian Americans from realizing their potential and the American Dream. Biden will work to ensure that individuals who are limited English proficient have access to health care and other government services and identify ways to increase access to federal programs for Indian American individuals and families. He will also create neighborhood resource centers or welcome centers to help new immigrants find jobs; access services and English-language learning opportunities; and navigate the school system, health care system, and other important facets of daily life. And, he will work to ensure that all public schools have sufficient English-language learning support to help all children reach their potential.
Honor the Diversity and Contributions of Indian Americans
The Obama-Biden Administration respected and celebrated America's diversity as an essential strength, including hosting the first White House event to honor the military service of Indian Americans and celebrations of Diwali at the White House, the Vice President's residence at the Naval Observatory, and at the Pentagon. A Biden Administration will once more recognize and honor important cultural celebrations of American faith and heritage communities. The Obama-Biden Administration also made history by changing U.S. Army policy to allow observant Sikhs, as well as Muslim women, to wear religious head coverings while in uniform, so that our brave soldiers could both honor their faith and serve their country. Biden will seek to ensure reasonable religious accommodations across all our armed services. And, he will nominate and appoint federal officials and judges who look like America, including from the Indian American community. Biden will bring key stakeholders to the table to ensure that the communities of those impacted by policies are an essential part of the decision-making process.
Create a Safe Environment in School for All Children
Every child should receive a good education, no matter their zip code, their gender, their sexual orientation, the color of their skin, their religion, whether they have a disability, or their parents' income. Biden will ensure that educators are equipped with the support, dignity, and pay that they need and deserve so that students can grow into physically and emotionally healthy adults. He will support passage of the Safe Schools Improvement Act, which requires school districts to develop bullying and harassment policies, and he will double the number of psychologists, counselors, nurses, social workers, and other health professionals in our schools so that all of our kids get the mental health care they need.
The Biden Administration will also allocate additional funding for the Department of Justice and Department of Education for anti-bullying initiatives, including programs specifically opposing the bullying of religious youth. He will also re-establish the Obama-Biden White House AAPI Bullying Prevention Task Force with community organizations.
Biden will also invest in educator mentoring, leadership, and additional education, so that educators can focus their energy on shaping the next generation of Americans. He will triple Title I funding to eliminate the funding gap between high- and low-income school districts, make public colleges and universities tuition-free for all students whose family incomes are below $125,000, as well as ensure that everyone has access to two years of community college or other high-quality training without debt to improve student success and grow a more prosperous middle class.
Support the U.S.-India Partnership
Biden played a lead role, both as Chairman of the Senate Foreign Relations Committee and as Vice President, in systematically deepening our strategic engagement, people-to-people ties, and collaboration with India on global challenges. In 2006, Biden announced his vision for the future of U.S.-India relations: "My dream is that in 2020, the two closest nations in the world will be India and the United States." He has also worked to make that vision a reality, including leading the charge in Congress, working with Democrats and Republicans, to approve the U.S.-India Civil Nuclear Agreement in 2008.
The Obama-Biden Administration continued to deepen collaboration between India and the United States on strategic, defense, economic, regional, and global challenges. Biden was a major champion of growing and expanding the U.S.-India partnership. Recognizing India's growing role on the world stage, the Obama-Biden Administration formally declared U.S. support for India's membership in a reformed and expanded United Nations Security Council. The Obama-Biden Administration also named India a "Major Defense Partner" – a status approved by the Congress – to ensure that when it comes to the advanced and sensitive technology that India needs to strengthen its military, India is treated on par with our closest partners.
President Obama and Vice President Biden also strengthened our cooperation with India to fight terrorism in each of our countries and across the region. Biden believes there can be no tolerance for terrorism in South Asia – cross-border or otherwise. A Biden Administration will also work with India to support a rules-based and stable Indo-Pacific region in which no country, including China, is able to threaten its neighbors with impunity.
The Obama-Biden Administration worked closely with India to secure the successful signing of the Paris Climate Agreement to address the global climate crisis that threatens all our peoples. A Biden Administration would bring the United States back into the Paris Agreement, giving us the ability to again work closely with India to fight climate change and once more work hand in hand to reduce our carbon emissions and secure our clean energy future, without which we cannot build the green economy we need.
Biden will deliver on his long-standing belief that India and the United States are natural partners, and a Biden Administration will place a high priority on continuing to strengthen the U.S.-India relationship. No common global challenge can be solved without India and the United States working as responsible partners. Together, we will continue strengthening India's defense and capabilities as a counter-terrorism partner, improving health systems and pandemic response, and deepening cooperation in areas such as higher education, space exploration, and humanitarian relief.
As the world's oldest and largest democracies, the United States and India are bound together by our shared democratic values: fair and free elections, equality under the law, and the freedom of expression and religion. These core principles have endured throughout each of our nations' histories and will continue to be the source of our strength in the future.
Joseph R. Biden, Biden Campaign Press Release - Joe Biden's Agenda for the Indian American Community Online by Gerhard Peters and John T. Woolley, The American Presidency Project https://www.presidency.ucsb.edu/node/345319