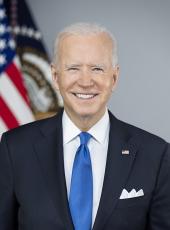 Biden Campaign Press Release - Joe Biden and Barack Obama's Full Conversation Debuts
Today, the full conversation of Vice President Joe Biden and President Barack Obama discussing our nation's future was debuted across both leaders' social media platforms. Vice President Biden and President Obama discuss presidential leadership during times of crisis, key issues impacting Americans' lives like health care, how to oversee a successful economic recovery plan, and more.



Watch the full video of the conversation HERE.

Below is a key excerpt from their conversation about addressing the ongoing public health and economic crisis. The full transcript of the conversation is on Medium HERE.
President Obama:
"When we came into office, even before inauguration, we had seen a historic financial crisis, irresponsibility on Wall Street had spread out to Main Street. We had to move fast, not just in a hundred days. We had to move in the first month to get the Recovery Act passed. We're now in a situation where not only we've got an economic crisis, but we also have a public health crisis to boot. Tell me a little bit about how you're seeing the current economic crisis and how you're thinking about the economy."
Vice President Biden:
"Well, Mr. President, there's three pieces that I see. One, we have got to sustain and keep people from going under forever. There's already 10,000 businesses that are not likely to open again, and a significant number of small businesses and minority businesses. Number two, when they're able to come back, they not only are able to keep their folks employed on a payroll, but they're able to cover overhead. They're able to cover the additional expenses. For example, the idea you can open without social distancing, mask, tests, and all these things that cost a lot of money."
President Obama:
"Those are added costs for small businesses."
Vice President Biden:
"They're added costs. And they should be able to have that added cost to be able to stay open for the good of the country. But the next stage of this is going to be, if we're able to… if the stimulus is able to keep people afloat, then we have to deal with recovery. And the recovery is building back, but not just building back — as you've been talking about and I've been talking about — but building back better. We have to change the way in which we deal with allowing people an opportunity to make a living."
Joseph R. Biden, Biden Campaign Press Release - Joe Biden and Barack Obama's Full Conversation Debuts Online by Gerhard Peters and John T. Woolley, The American Presidency Project https://www.presidency.ucsb.edu/node/345164