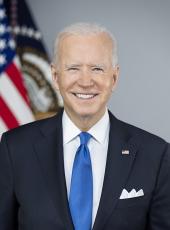 Biden Campaign Press Release - Joe Biden and Barack Obama Reflect on Obamacare's Impact in New Excerpt
In another excerpt of their conversation about the nation's future, Vice President Joe Biden and President Barack Obama reflect on one of the greatest accomplishments of their administration: passing the Affordable Care Act and expanding health care to more than 20 million Americans. Vice President Biden shares his personal experiences with the health care system and President Obama discusses why health care is important to so many Americans.



Watch a new excerpt of the conversation HERE.

Vice President Biden:
"I remember when Beau was toward the end and the only person I told the detail all the time as you, because you had a right to know exactly what my, and he only had months left to go. And I used to sit there and watch him in the bed and in pain and dying and glioblastoma, I thought to myself, what would happen if his insurance company was able to come in, which they could have done before passed Obamacare and said, you have out run your insurance. You're about to suffer the last five months of your life in peace. You're on your own. All the things that it did, then it was so profound, an impact on people. It was like, it took them a while until they started to take it away to realize what was happening."
President Obama:
"I mean, you and I both know what it's like to have somebody you love get really sick. And in some cases to lose somebody, but that loss is compounded when you see the stress on their faces, because they're worried that they're being a burden on their families. They're worried about whether the insurance is gonna cover the treatments that they need. I couldn't be prouder of what we got done. 20 million people have health insurance that didn't have it because of what we did."
Earlier this afternoon, the campaign released an excerpt HERE where Vice President Biden critiqued President's Donald Trump's lack of leadership and President Obama commended Vice President Biden for having the experience, heart, and character to bring the country together.
The full conversation between the 44th President of the United States and the 47th Vice President of the United States will air across both leaders' social media platforms on Thursday, July 23. Supporters can text TOGETHER to 30330 to be notified when it's live.
Joseph R. Biden, Biden Campaign Press Release - Joe Biden and Barack Obama Reflect on Obamacare's Impact in New Excerpt Online by Gerhard Peters and John T. Woolley, The American Presidency Project https://www.presidency.ucsb.edu/node/345289