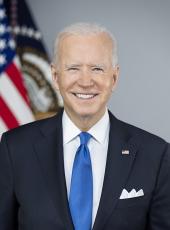 Biden Campaign Press Release - ICYMI: Young Americans for Biden, PCCC Host Voter Contact Event on Gun Violence Prevention with David Hogg, Sen. Chris Murphy and Devon Bradley
Yesterday, Young Americans for Biden and the Progressive Change Campaign Committee hosted a Progressives for Biden Phone Bank. The event focused on gun violence prevention, and featured appearances from March for Our Lives co-founder David Hogg, Senator Chris Murphy, and March for Our Lives federal policy associate Devon Bradley. As Trump and the Republicans rushed through a Supreme Court majority that could roll back sensible gun safety protections, volunteers talked to voters about Joe Biden's plan that would ban the manufacture and sale of deadly assault weapons and require background checks for all gun sales.
Featured guests spoke about how gun violence has impacted them, and the need for stronger gun safety laws.
See below for highlights from the event.
David Hogg, Senator Chris Murphy, and Devon Bradley spoke to volunteers via Zoom
"Having a really successful night tonight, where people are coming together and making calls, on behalf of the issue of gun violence, is what is going to continue to convince my Republican colleagues, and wavering Democratic colleagues, that if all you care about is your political survival, you need to get right on the issue of gun violence," said Senator Chris Murphy. "You need to start voting for these measures, so that you don't have to fight us, election after election. That's what we're doing, we're building a political movement that is now more powerful than the gun lobby, is going to be part of what get's Joe Biden elected president, is going to be part of what gets a Democratic Senate in place. But is also going to be part of what scares the living daylights out of every Member of Congress, no matter what their political persuasion is, so that they start voting with us."
"Kids shouldn't have to sit through school shooter drills because a senator or a congressman is afraid of the NRA," said David Hogg, March For Our Lives co-founder. "They're more willing to protect inanimate objects that people have, and complete, basically, willy nilly access to them, than the rights of our children to go to school and live in their communities and their homes on a daily basis without the fear that gun violence is going to come in and take another person's life. And I think that's what's so powerful about events like tonight. You know this is taking a big step towards basically building up more of that fear that I talked about for these politicians to act. Because sadly that's the only thing that gets them to act is when you directly threaten them with our vote, and with our organizing, and with our passion."
"Statistics show that more than 100 people are killed each day from gun violence, and over 38,000 people die from gun violence each year," said Devon Bradley, March For Our Lives, federal policy associate. "That means by the time this phone bank has concluded tonight, close to 100 people will cease to exist here with us, due to gun violence. Each of you are here tonight, because you refuse to accept that as a normal way of life. And just like you, I refuse to ever accept my single mother, with twin boys, ducking at dinner time in fear of bullets flying through the window, and that being our normal way of life."
Joseph R. Biden, Biden Campaign Press Release - ICYMI: Young Americans for Biden, PCCC Host Voter Contact Event on Gun Violence Prevention with David Hogg, Sen. Chris Murphy and Devon Bradley Online by Gerhard Peters and John T. Woolley, The American Presidency Project https://www.presidency.ucsb.edu/node/347171