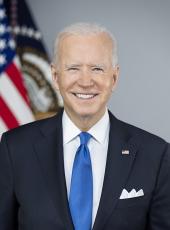 Biden Campaign Press Release - ICYMI: Women for Biden Highlight Vice President Biden's Commitment to Ending Violence Against Women During Domestic Violence Awareness Month
In the final weeks of the campaign and throughout Domestic Violence Awareness Month, Women for Biden have been highlighting Vice President Biden's commitment to addressing gender-based violence. Nearly 30 years ago, he wrote the Violence Against Women Act, and in the decades since incidents of intimate partner violence have decreased drastically. Each time VAWA has been reauthorized, with the support of strong leadership and the tireless work of advocates, Congress came together with bipartisan majorities to strengthen and expand protections for women. But for more than a year, President Trump and Leader McConnell have blocked the House-passed VAWA reauthorization because the bill would close the so-called "boyfriend loophole" and prevent abusive dating partners from buying a gun — choosing to stand with the National Rifle Association (NRA) over American women.
Joe Biden and Kamala Harris will immediately push for Congress to pass VAWA reauthorization legislation in the first 100 days of their administration, fulfilling obligations to women who are suffering and feel abandoned. Joe Biden and Kamala Harris will also work to expand the safety net for survivors, empower and protect our young people, confront online harassment, abuse and stalking, ensure justice for survivors, end the rape kit backlog, address the deadly combination of guns and domestic violence, change the culture that enables sexual violence, support the diverse needs of survivors of violence against women, protect and empower immigrant women, and lead the global effort to end gender-based violence.
Here's what advocates and leaders are saying about the crisis of domestic violence and how Joe Biden would work to address it:
Moms Demand Action Advocate and North Carolina voter Susan Browder, whose daughter Sarah was killed my her husband
"Although not a day goes by where Susan Browder doesn't think about Sarah, she's hopeful that a Biden-Harris administration will enact real change. 'We're making a lot of progress, but there is still so much to do,' she shared. 'I really believe that a Biden-Harris candidacy would help us leap forward." [Popsugar, 10/13/20]
"[Browder] plans to support Joe Biden in the upcoming election in hopes that a new administration will help move forward some of the proposals for curbing domestic and gun violence. 'The fact that I have lost her and think about her daily has led to my doing this work, to combat domestic gun violence. It has been healing for me to do this work. I really can't envision any other way of moving forward with my life,' she said." [Popsugar, 10/13/20]
National expert and champion for the prevention of family violence, Lynn Rosenthal
[Shape, 10/20/20]
"When Biden was in the White House as the vice president, he had a huge influence on the nation's response to campus sexual assault. He worked with the Department of Education on strengthening Title IX (which protects students from sex-based discrimination, including sexual harassment). He helped develop It's On Us, a social awareness program that brings the conversation about sexual assault prevention to hundreds of colleges and universities across the country. He secured millions of dollars in grants toward the nation's effort to address the backlog of untested rape kits so that sexual assault survivors could find justice. That's everything he did as vice president. Imagine what else he might accomplish as the president."
Former Republican Congresswoman Susan Molinari:
[Morning Consult, 10/22/20]
"Of course, he wrote and pushed for the adoption of the Violence Against Women Act at a time when domestic violence was considered a 'family issue,' not a crime. This bill and Biden's leadership on it changed how society viewed domestic violence. It is hard to imagine that Trump, who recently asked women at one of his rallies if their husbands were okay with them being there, could ever be such a champion on our behalf."
Last month, Women for Biden held an event led with Jill Biden on the need to re-authorize this law and a number of advocates discussed how Joe Biden will continue to lead on this issue:
Rep. Ruth Buffalo:
"The fact that [VAWA] hasn't been passed is deeply troubling… I'm hopeful the Biden-Harris Administration will address the gaps that are within this system… I'm really looking forward to a Biden-Harris Administration viewing Native Americans across the country, our country, as human beings."
Advocate and veteran Melissa Bryant:
"A Biden-Harris Administration will tackle this. This issue is decades old… Vanessa Guillen was missing for two months before her remains were found, and that should not happen again...We cannot take this anymore because harassment at a bare minimum is a daily part of our lives as women in uniform. As an officer in uniform, I was cat-called. I was harassed. I heard comments about my physique. Things my father and grandfather never had to deal with. But we serve our country honorably as well, and we deserve the same protections as our male counterparts under the law."
Advocate Karma Cottman:
A Biden-Harris administration "will lift up the need to not just address domestic violence and sexual assault, but address abuses of power. That really is the basis of our work to end domestic violence and sexual assault. We also know that early on we're going to have a reauthorization of the Violence Against Women Act… which is critical to our work."
Advocate Tracey Vitchers said of a Biden-Harris administration:
"I'm really looking forward to seeing renewed federal actions to prevent sexual and domestic violence and supports survivors that builds on work that has continued on the ground despite the efforts, or frankly lack thereof, of the Trump administration, and I really look forward to seeing how this work will center on the historically marginalized communities, see a true inter-agency approach to tackling this issue, because Vice President Biden knows that tackling sexual violence and supporting survivors these is everyone's responsibilities."
Additionally, Sen. Amy Klobuchar penned an op-ed for Glamour:
"Back when Vice President Biden was initially fighting to pass VAWA, he said he believed that once Americans heard the accounts of survivors their sense of basic decency would unite them in demanding change. He was right. Although there remains much work to be done, our better angels took over, and we forged a brighter future. Now we're being put to the test again in November. Joe still believes in us. He believes we can better protect women. He believes we can build a more united, just, and compassionate society. And I do, too. Let's prove it at the ballot box."
And Sen. Kristen Gillibrand penned an op-ed for The Nashua Telegraph in New Hampshire:
"Reauthorizing VAWA, with provisions to expand protections and close the boyfriend loophole, is one of Vice President Biden's top priorities for his first 100 days in office. With a Biden-Harris administration in the White House and a Democratic Senate majority, we will deliver the results women need."
Joseph R. Biden, Biden Campaign Press Release - ICYMI: Women for Biden Highlight Vice President Biden's Commitment to Ending Violence Against Women During Domestic Violence Awareness Month Online by Gerhard Peters and John T. Woolley, The American Presidency Project https://www.presidency.ucsb.edu/node/347165