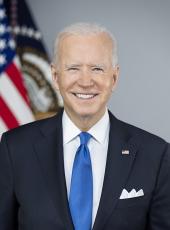 Biden Campaign Press Release - ICYMI: Women for Biden Highlight the Biden-Harris Plan to Ease the Caregiving Crisis
Throughout the campaign, Women for Biden have focused on how hard it is for people to juggle the responsibilities of working and also caring for family members -- a caregiving crisis made worse by this pandemic. People in nursing homes have been hit especially hard by COVID-19, and many parents are struggling to find child care while they go to their essential jobs or are stretched thin as 24/7 caregivers while they work remotely. The caregiving workforce is struggling as well -- and for too long have been unseen, underpaid, and undervalued. It didn't have to be this bad, but President Trump's failure to help schools and child care providers safely reopen is being felt across the country, with many women leaving the workforce as a result.
A Biden-Harris Administration will not only contain COVID-19 so people can get back to work and school safely, but it will build back better by investing in the infrastructure of care in our country. On the campaign trail, Biden has discussed his commitment to easing "the caregiving crises so many families experience — that squeeze of raising your kids while caring for your aging loved one." He'll do so by expanding access to a broad array of long-term services and supports in local settings, ensuring access to high-quality, affordable child care and offering universal preschool to three-and four-year olds, and treating caregivers and early childhood educators -- more likely to be women and especially women of color -- with respect and dignity they deserve.
In her own words, here's how Senator Kamala Harris frames the issue: "The strain on working families, especially women, is simply unacceptable. Joe Biden and I have a plan to get this pandemic under control, reopen schools and child care safely, and build our economy back better so that it truly works for everyone… Throughout the past nine months of unprecedented crisis, Americans of all backgrounds have come together to help their communities—and nobody has done more than mothers. It's time for us to stop expecting them to be superheroes, and instead provide them with the structure and support they need. We have the opportunity to reimagine what's possible—so let's build our economy back better, in a way that reflects what Americans value most: our families." [Parents, 10/21/20]
In an open letter to America's working moms, Jill Biden said: "Moms across the country have told me that, no matter how hard they work, no matter how much they try, they feel like they're failing. You are not failing; you're doing your best. You are not alone. Help is on the way. Joe Biden and Kamala Harris see the enormous burden moms are carrying right now. They have a plan to end this pandemic and reimagine a future where all families have the support they need… Moms, you are so strong. Despite unending questions and chaos, you have carried your families through one of the most difficult times in our history, and you have done it with grit and grace. Now it's time for a President and Vice President who will take responsibility, who are courageous and compassionate, and who can unite us and lead us forward." [Romper, 10/31/20]
In a recent conversation on care hosted by Women for Biden and PL+US Action, a panel of activists and experts discussed the ways the Biden-Harris plan will build back better for families:
Doug Emhoff, husband of Senator Kamala Harris:
"When I'm talking to folks, everyone is trying to keep a stiff upper lip right now because everyone is traumatized by the failure of this Administration. But I've got to say just being able to talk about the Build Back Better plan, how it's strengthening the caregiving economy to ease the strain as they try to raise kids -- it was so hard for families before COVID. But my goodness, it's so much harder now. Many families are just getting through each day… But I think the most important thing to understand is this: when we elect Joe and Kamala, working parents and working families are going to have champions in the White House."
Katie Bethell, Founder and Executive Director of PL+US Action:
"It has never been so clear why we need clear-eyed powerful leadership from our government and why we need the government to be putting structures in place that support families. One thing that has been so inspiring about the Biden-Harris ticket and the build back better plan is that through the focus on paid leave, affordable child care, and supporting the care workforce, you've really centered the needs of working families. The care economy is actually a main pillar of the economic platform and economic agenda, and that is so exciting."
Ai-jen Poo, Senior Advisor for Care in Action:
"If there's one thing this pandemic has made clear, it's that our policies are not only outdated, but they don't support the people who make everything possible in our lives—our caregivers. But I have to say I'm incredibly hopeful because millions of us now see the need to transform our care economy."
Tina Tchen, former Chief of Staff to First Lady Michelle Obama and Executive Director of the White House Council on Women and Girls:
"This pandemic has revealed what all of us women have known for generations, that it's a struggle to balance the need to care for your family and loved ones and the need to work. Now's the time to elect the Biden-Harris Administration to have national paid leave for the first time."
Jocelyn Frye, Senior Fellow at CAP, former Deputy Assistant to President Barack Obama, and Advisor for the Paid Leave For All Action Campaign:
"Everybody loves talking about paid leave. But there is a fundamental difference between the ideas the Biden-Harris administration is going to have put forward that talks about comprehensive paid family and medical leave, that recognizes the many different caregiving challenges that families face, and something that is a partial half measure like some of the ideas that the current administration has put forward."
Glynda Carr, President, CEO and co-founder of Higher Heights for America:
"Black women have not only been the essential workers who are keeping our country going...they're also managing their homes and taking care of children. Here is an election cycle where we can elect leaders who uniquely understand that." msaez@joebiden.com
Here's what other leaders and advocates are saying about the Biden-Harris caregiving plan:
Senator Tammy Baldwin:
"[Affordable Child care] is something that Joe Biden and Kamala Harris have really embraced. It's something that's so key to getting our economy restarted." [Two Broads Talking Politics, 10/28/20]
Lt. Gov Peggy Flanagan:
A Biden-Harris Administration "is going to get serious about childcare being the backbone of the economy. It's the workforce that supports the workforce, and I think that they're ready for that — a paid family leave [policy], and just getting real about what it truly means to have a workforce that is full of men and women, and we're going to get there." [Women for Biden Event, 10/26/20]
Congresswoman Stephanie Murphy:
"Women have been dealing with child care issues, with schools being closed, there's a lot of anxiety but there's also a lot of momentum and passion to make sure that we elect Joe Biden and Kamala Harris because they get it. And I think they have a plan to help address these issues and women understand that." [Betches SUP, 10/15/20]
Congresswoman Mikie Sherrill:
"This is a critical issue that Biden understands, not just for coronavirus, but how we as working parents...and working moms especially...have got to have a better pathway." [Betches Sup, 10/7/20]
Congresswomen Sylvia Garcia, Veronica Escobar, and Debbie Mucarsel-Powell:
"[Joe Biden] will make it easier for Latinas to go back to work by ensuring families can access high-quality child care and care for aging relatives while creating new care jobs, elevating pay of care workers, and treating them with the dignity they deserve." [Be Latina, 10/29/20]
Former Republican Congresswoman Susan Molinari:
"Under the leadership of Joe and Kamala, America is going to defeat the virus and build back better — for women, for working families, for communities of color and for people everywhere. Our schools will reopen — safely — by following the science that will protect teachers, children and their families. Women are going to be able to get back to work in safe workplaces. Our care economy will get back on its feet — while we build back better to ensure families can access affordable, high-quality care and improve the jobs and pay for the child care and elder care workers that make our success possible." [Morning Consult, 10/22/20]
Alyssa Milano:
"To see a candidate for president who is talking not only about child care as part of his women's platform, but also how to protect caregivers...these are all incredibly important things. The fact that the Biden campaign recognizes all of this and has created a women's platform that is so thorough...I'm really proud of the work that Joe and his campaign have done." [Motherly Podcast, 10/29/20]
"A Biden-Harris administration could mean that kind of passion, advocacy, and representation at our highest levels of our government. And it could mean that the challenges facing parents — which have become even more stark in light of this pandemic — will finally be addressed… It means helping parents navigate the challenges of work and family responsibilities and bringing down the cost of child care. Biden and Harris have a plan to do so. And, in fact, they would bring child care costs for the typical family to $45 per week. That's transformative for parents." [Popsugar, 9/14/20]
Forty-six business leaders:
"Having been a single parent for five years, Biden understands the challenges of finding affordable, reliable childcare. He has a plan to help parents balance work and caregiving duties, which so often fall on working mothers." [Business Insider, 10/11/20]
Joseph R. Biden, Biden Campaign Press Release - ICYMI: Women for Biden Highlight the Biden-Harris Plan to Ease the Caregiving Crisis Online by Gerhard Peters and John T. Woolley, The American Presidency Project https://www.presidency.ucsb.edu/node/347164