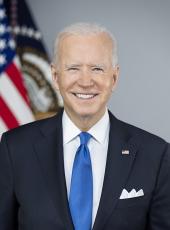 Biden Campaign Press Release - ICYMI: Women Across the Country Praise Kamala Harris in Last Night's Debate
Women across the country are celebrating Kamala Harris and her performance on the debate stage.
Senator Harris spoke directly to families across the country about the challenges they face with nearly 30 million Americans on unemployment, more than 7 million Americans infected with COVID-19, and 1 in 5 small businesses closing their doors. Senator Harris made a forceful case on what the Biden-Harris administration will do to contain COVID-19, build the economy back better, and bring our country together.
President Trump and Vice President Pence, on the other hand, have no plan for the issues facing American families. Vice President Pence still couldn't outline a plan to contain coronavirus, to protect health care for all Americans with pre-existing conditions, or to address the existential threat of climate change. And he mansplained and interrupted Senator Harris and Susan Page throughout the debate. That didn't play out well for the Trump-Pence ticket.
Americans want leaders like Joe Biden and Kamala Harris who will speak the truth and give it to them straight, and who have a plan to address the crisis we face.
Heading into debate night, women from all walks of life were cheering her on last night:
Women for Biden held a pre-debate event with supporters, featuring Harini Krishanan, Beth Foster Gayle, and Jill Louis, which was followed by a national event with Mindy Kaling, Padma Lakshmi, Andra Day, Maya and Meena Harris, and Finnegan Biden.
Asian American Pacific Islander Americans for Biden honored Senator Harris and her South Asian heritage by sharing photos of family members and influential AAPI women with the hashtag #AAPISheRose. Read more in Buzzfeed HERE.
Biden for President hosted Divine 9 early voting events in states such as Virginia, Georgia, and Michigan, during which Divine 9 members voted early in a show of support for Senator Harris. AKA's and Divine Nine Members also hosted debate watch parties and phone banks in Ohio, Virginia, Nevada, Pennsylvania, Nebraska, and Wisconsin.
During and following the debate, women across the country have made clear that Senator Harris was speaking directly to the challenges facing Americans, particularly health care, jobs, and education:
Senator Elizabeth Warren with Elle Magazine: "The very first words out of her mouth were about how Donald Trump's failure to deal with the COVID crisis was the worst failure of an American president in history… It showed she could land a punch hard and with confidence and dignity. It showed a woman leader."
Senator Amy Klobuchar with Glamour Magazine: "Kamala Harris went in there with one job, and that is to make the case for a new administration, for the Biden-Harris Administration, and she did it. She had the facts in her command and the facts on her side. Mike Pence is known as a good debater…. Yet, when you're defending something to me which is indefensible: a president who walks into the White House with COVID and takes his mask off, a president who let over 200,000 people die and still isn't taking this crisis seriously, when the economy is sputtering... Kamala did a great job really firmly, with grace, putting those facts out there."
Congresswoman Lauren Underwood with Harper's BAZAAR Magazine: "Senator Harris showed up. She talked directly to the American people, and let us know exactly what the plans were for the Biden-Harris Administration to help improve our lives, move us out of COVID-19, and keep our democracy strong… Last night was a crystallization. One candidate talked about science and listening to the experts and rolling out a national strategy to protect the American people from this virus. And we heard the Vice President of the United States distort and deflect and deny what we all know to be true, which is COVID-19 is a highly infectious virus that is killing millions of Americans... What we heard last night was Senator Harris, looking to the camera, expressing to the American people exactly what her plans were and the contrast couldn't be more clear."
Valerie Jarrett on MSNBC Live With Hallie Jackson: "She did an incredible job last night, knocked it out of the ball park last night. She took complicated issues and broke them down through the lens of how they will affect the lives of Americans from the COVID-19 to the impact of repealing the Affordable Care Act -- the whole riff about how they're coming for you. People sitting at home could see the authenticity, the passion, the commitment, and the qualifications that she has to serve… [Pence] did keep interrupting both Senator Harris and Susan Page in a way that was disrespectful. He didn't answer the questions. He didn't play by the ground rules who were put before him and that the campaign agreed to, all of which I think doesn't play well with the American people."
Melissa Mark-Viverito: Great opening statement by @KamalaHarris. Opening and closing argument right here. "The American people have witnessed the worst failure by any Presidential administration...they have forfeited their right to re-election." #VPDebate
Speaker Pelosi: Thank you @KamalaHarris for making the case for ACA & against Trump assault on pre-existing conditions benefit in the middle of a pandemic. Tonight, Harris declared Trump/Pence total failures in the fight against COVID. America deserves Biden. Bravo Kamala, Poor Pence! -NP
Debra Messing: On Trump's handling of COVID, Harris says he has "failed at the most basic and important job of a president."But Joe Biden sounded the alarm about COVID early and with Harris at his side, will beat back the virus and returning US to normal!
Alyssa Milano: Kamala Harris knows that racial disparities are responsible for the fact that Black and Latinx Americans have been hit hard by coronavirus. Under a Biden-Harris administration, all Americans will get free testing, care and treatment for COVID. #Debates2020
Maria Town: "If you have a pre-existing condition, they're coming for you." - @KamalaHarris This spoke to my soul and captures what disabled people know to be true. The attacks on the Affordable Care Act are an assault on our lives. #CripTheVote #VPDebate #VPDebate2020
They called out Vice President Pence for still not having a plans on COVID, health care, or other challenges facing the American people:
Ilyse Hogue: Did Mike Pence just thoughts and prayers us? 200,000 lives lost. Millions devastated. We need more than thoughts and prayers. We need relief. We need them to pass COVID relief. #VPDebate2020
Rep. Karen Bass: Vice President Mike Pence didn't answer questions about taking health care away from millions of Americans in the middle of the pandemic because he wants to take health care away from millions of Americans in the middle of the pandemic. #VPDebate2020
Congresswoman Debbie Dingell: Pence just called the Affordable Care Act a disaster, while this administration has no plan to protect people with preexisting conditions, and is actively trying to rip healthcare away from people in the Supreme Court Right now. #VPDebate
Congresswoman Ayanna Pressley: Pence didn't come to debate, he came to play dodge ball. He dodged on COVID-19 response, dodged on pre-existing conditions, dodged on abortion, dodged on peaceful transfer of power. #MikePence dodged everything but that fly #Debates2020
Christina Reynolds: Just to be clear, Pence didn't answer the question on their health care plan, right? We're still waiting for their magical plan that will do everything, right? Women across the country are celebrating Kamala Harris and her performance on the debate stage.
And they made clear who won the debate:
Michelle Obama: Strong. Honest. Clear. Hopeful. Tonight, @KamalaHarris proved that she and @JoeBiden have what it takes to move this country forward. And now it's up to us to go vote for them. Vote early—do it as soon as you can, in person or by mail. Get started now at http://iwillvote.com.
Senator Kristen Gillibrand: Tonight's VP debate made clear what you and I already know:
@KamalaHarris is brilliant, passionate, deeply empathetic, and absolutely fearless. Now, let's make sure she and @JoeBiden win on November 3rd.
Congresswoman Ayanna Pressley: Shyamala's daughter showed up for the American people tonight.
Congresswoman Pramila Jayapal: Game. Set. Match. @KamalaHarris
Governor Gretchen Whitmer: Tonight @KamalaHarris made it clear that she and @JoeBiden have the right plans to protect our health care, fight for Michigan auto jobs, and build our economy back better for Michigan's working families. Let's get to work!
Glynda Carr: Job well done @kamalaharris. #TruthTeller #BlackWomenLead2020
Cecile Richards: So proud of @SenKamalaHarris - ready to be Vice President!
Aimee Allison: I'm so proud of @KamalaHarris - her heart and experience and yes she is the second Black woman to ever serve in the U.S. Senate #VPDebate
Uzo Aduba: What's clear is that @KamalaHarris did not arrive here on accident. She is a seasoned attorney who knows how to give a strong opening statement and make the case for how a national healing can be found in a #BidenHarris administration. #VPDebate
Debra Messing: Kamala Harris has a 20-year record of public service as a prosecutor, District Attorney, Attorney General, and Senator. She has the intellect, temperament, and experience to lead. #Kamala4VP #Debates2020 #WeHaveHerBack
Joseph R. Biden, Biden Campaign Press Release - ICYMI: Women Across the Country Praise Kamala Harris in Last Night's Debate Online by Gerhard Peters and John T. Woolley, The American Presidency Project https://www.presidency.ucsb.edu/node/345134