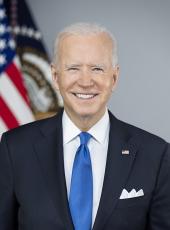 Biden Campaign Press Release - ICYMI: The Well News: In Final Push, Biden Builds Unprecedented Bridge to Small Business Community
This week, the Small Business for Biden coalition was featured in The Well News following a series of Battleground Business Leader Briefings for small business owners, entrepreneurs and stakeholders. The four virtual briefings focused on sharing the economic case for why Joe Biden is the right leader to rescue and rebuild our economy after Donald Trump's painful mishandling of COVID-19 and outlined Joe Biden's plan to Build Back Better. At the end of each briefing, the campaign & partners provided training and tools to help business leaders activate voters in their networks and local communities.
Read the full article below:
The Well News: In Final Push, Biden Builds Unprecedented Bridge to Business Community
[Dan McCue, 10/15/20]
With less than 20 days to go until Election Day 2020, the Biden campaign is engaging in a full-throttled effort to reach out to small business owners across the country.
The goal is both to enlist them as local thought leaders while also explaining what the Biden "Build Back Better" economic plan could mean to them and their communities.
The economic outreach effort is anchored by Ben Harris, chief economist for Vice President Joe Biden during the Obama administration, and Connor Maxwell, a policy analyst with the Biden campaign.
It is an extension of an early initiative of the Biden campaign — the creation of a Small Business and Entrepreneurs Advisory Council — that it described as a "coalition of leaders … who share Biden's vision for successful American small businesses."
Over the course of the past week, Harris, Maxwell and Rhett Buttle, Biden for President national business advisor, have been holding a series of "Battleground Business Leader Briefings" with entrepreneurs in different regions of the country.
As Buttle explained at the start of the most recent session of Friday, "We are in the last few days of this election … and we wanted to talk to business and economic leaders and make sure you fully understand the Biden/Harris plan as it related to all the things the vice president is going to do to get COVID-19 under control and begin to build the nation back better [than it was before the pandemic].
"But we can't achieve any of these really important policy goals unless we win this election, and you as business leaders, play important roles in your communities, with your employees, with your neighbors, and with your friends," Buttle continued.
"People listen to what you say; what you say really matters. So we want to equip you with the tools you need to do what you can do to explain our plan and help get out the vote," he said.
Joining the campaign team on the call was Mayor Stephen Benjamin, of Columbia, S.C., a longtime Biden supporter who was also a charter member of the Small Business and Entrepreneurs Advisory Council.
"We all have so much going on as we grapple with the triple pandemic of, not only COVID-19, but also the economic disruption many of us are facing, as we readjust our businesses and our lives, and the social unrest that's gripping so many communities across the country," Benjamin said.
"It really underscores the great need for stability … stability that we must have after the last four years of this chaos," he said.
Benjamin added that he's known what it's like to be a local elected official and a member of the business community during both the Obama and Trump administrations, "and the differences could not be more stark."
"We spent several years working alongside Vice President Biden and his team at the White House on the important issues of infrastructure and creating environments where our businesses could grow and thrive and prosper — and as a result of that work, we had a budget surplus for the last 10 years and we've never had to raise taxes. And we invested heavily in small businesses using the creative tools provided under the leadership of Joe Biden and President Obama," he said.
"They helped us restart the economic engine after the 2008 recession in a way we never could have imagines in rural South Carolina, building a thriving city center surrounded by healthy suburbs," Benjamin continued, adding that he firmly believes the Biden plan for economic recovery from the current pandemic will help small businesses — and their communities — "get back on their feet all across the country."
"We need Joe Biden and his clear-eyed, thoughtful and compassionate approach to building America with a focus on our small businesses that recognizes our interdependence with the rest of the world," the mayor said.
"We can build an equitable, inclusive society in which we all can do well together, and we can do this under the leadership of Joe Biden," he said.
A campaign spokesman said while the week of virtual sessions isn't the campaign's first outreach to the business community, they have been a way "to make sure we're getting our message out there" and "leaving no vote behind."
"We've all worked on other campaigns and I can tell you, I don't think there has been this level of organizing small businesses and business owners and entrepreneurs in any previous presidential campaign. We really are kind of building a network like you haven't seen before," he added.
"There are just 18 days to go, now's the time to make sure everybody is engaged," the spokesman said.
Joseph R. Biden, Biden Campaign Press Release - ICYMI: The Well News: In Final Push, Biden Builds Unprecedented Bridge to Small Business Community Online by Gerhard Peters and John T. Woolley, The American Presidency Project https://www.presidency.ucsb.edu/node/347157