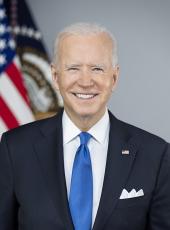 Biden Campaign Press Release - ICYMI: Senator Tammy Baldwin and Minnesota Lt. Governor Peggy Flanagan Join Women for Biden on the Bring it HOMES Tour
Last night, Senator Tammy Baldwin and Minnesota Lt. Governor Peggy Flanagan joined Women for Biden for the third and final stop of the Bring it HOMES Tour. This virtual tour of the Great Lakes states began with a stop in Ohio and Pennsylvania, featuring Jill Biden and singer and Ohio native Macy Gray; virtually traveled to Michigan with a stop featuring Meena Harris and Chelsea Clinton in conversation; and concluded in Minnesota and Wisconsin last night.
Consistent with previous stops on the tour, the conversation focused on the impact of the COVID-19 pandemic on women and the need to build back better when it comes to health care, the economy, and caregiving. The event took place just after Senate Republicans' rushed and unprecedented confirmation of a Supreme Court justice in the middle of an election, and Senator Baldwin discussed how this action served as a stark reminder that health care is on the ballot.

Click HERE to watch the conversation.
Arvina Martin, City of Madison District 11 Alder, moderated the conversation and began by saying, "Women in Minnesota and Wisconsin are ready for change. It's why we've been showing up to vote early; sending in our mail-in ballots; and, come election day, we'll be standing in line ready to make our voices heard."
Senator Baldwin shared that, of the many issues driving women to the polls this November, the COVID-19 pandemic and health care are among the most pressing. "We know this administration has never had a plan to combat the coronavirus pandemic; and I just thought for the longest time that it was just an abject failure of leadership, until we all started learning that this was actually intentional — whether it's the [Bob] Woodward tapes having Donald Trump saying, 'I know how severe it is, but I don't want to panic anyone,' or this weekend's revelations from his Chief of Staff that, 'Well, we can't contain it, so we're just investing in a vaccine and treatments."
She went on to discuss how Senate Republicans' confirmation of Amy Coney Barrett to the Supreme Court last night puts health care at risk, adding, "It is very clear that one of the goals was to appoint somebody very likely to vote to take away our health care, to overturn the Affordable Care Act. And given that we're in a pandemic and health care is top of mind for so many women and men, that has become one of the very chief issues in this campaign."
Lt. Governor Flanagan agreed that health care is on the line. "It is certainly what we're hearing… We've been fighting the pandemic, and Donald Trump has been fighting us. It's so clear that we need a partner and not foil in the White House. The other pandemic that I think we see that is truly everywhere is the pandemic of systemic racism. That is what I'm hearing loud and clear from women, particularly women in the suburbs, myself included, that this is the issue that is motivating so many people to cast their votes."
In discussing the impact of this pandemic on women and Biden-Harris ticket's commitment to build back better, Senator Baldwin said, "Women have faced the greatest struggles. We know that women disproportionately care for the children, arrange health care, care for elders, and try to get ahead in their careers. Working from home and juggling all of that is just enormous, and Donald Trump clearly doesn't get that at all."
She continued, "I think the pandemic and the economic recession...peeled back a veil or a curtain...on the enormous inequities and disparate outcomes that we have throughout our society; and so it was really clear that it would not be acceptable to just think about building back. We can't recreate the systemic problems that we have had for a long, long time. We need to build back better, more fairly, more justly...That applies to so many of the things I'm really hopeful will happen — health care for all, accessible to all; an economy that focuses first and foremost on workers and not just financiers...Whether it's housing, whether it's voting rights, whether it's LGBTQ rights, let's commit to building back better."
Lt. Governor Flanagan agreed the Biden-Harris ticket will build back better by strengthening our caring economy, stating, "we are going to get serious about childcare being the backbone of the economy. It's the workforce that supports the workforce, and I think that they're ready for that — a paid family leave [policy], and just getting real about what it truly means to have a workforce that is full of men and women, and we're going to get there."
They also encouraged Americans to take action, vote, and volunteer in the final eight days of the election. "Too often, we say...what difference does one vote make?" Senator Baldwin said. "Well, think of John McCain saving the Affordable Care Act. Think of all the races that were decided by less than a percentage point in the 2016 election. Let's own our power; let's exercise our power by making our voices heard and our votes counted."
Joseph R. Biden, Biden Campaign Press Release - ICYMI: Senator Tammy Baldwin and Minnesota Lt. Governor Peggy Flanagan Join Women for Biden on the Bring it HOMES Tour Online by Gerhard Peters and John T. Woolley, The American Presidency Project https://www.presidency.ucsb.edu/node/347151