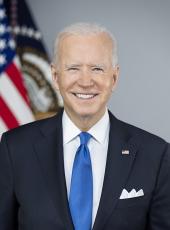 Biden Campaign Press Release - ICYMI: Rolling Stone Endorses Joe Biden
"Vice President Biden's platform offers progressive solutions to every major problem facing the country, and he has the experience to put those principles into practice."
Today, Rolling Stone announced its endorsement of Joe Biden for President of the United States, highlighting the Vice President's broad coalition, progressive solutions and experience to put those solutions into practice.
In the endorsement, the editors praise the coalition Joe Biden has built behind this campaign, and his promise to be a President for all Americans. The editors note the support from progressive leaders like Senator Bernie Sanders and Alexandria Ocasio-Cortez on the left to republicans on the right, which Rolling Stone dubbed a "coalition of the decent."
Rolling Stone also praises Joe Biden's platform for its progressive solutions to address the crises facing Americans, including plans to contain COVID-19, fight for racial justice, address the existential threat of climate change and more. The editors go on to say that Biden is the candidate with the experience needed to implement these progressive solutions, writing that "there are few Americans better suited to the challenge than Joe Biden."
And in stark contrast to Donald Trump's rhetoric of division and hate, Rolling Stone writes that Joe Biden will anchor our country's revival in unity, work to reverse the damage after four years of Trump and restore our democracy. The editors write that "Biden holds a profound respect for the institutions of American democracy, as well as a deep knowledge about how our government — and our system of checks and balances — is meant to work; he aspires to lead the nation as its president, not its dictator."
Read key excerpts below:
Rolling Stone: Joe Biden for President
[10/19/20]
We've lived for the past four years under a man categorically unfit to be president. Fortunately for America, Joe Biden is Donald Trump's opposite in nearly every category: The Democratic presidential nominee evinces competence, compassion, steadiness, integrity, and restraint. Perhaps most important in this moment, Biden holds a profound respect for the institutions of American democracy, as well as a deep knowledge about how our government — and our system of checks and balances — is meant to work; he aspires to lead the nation as its president, not its dictator. The 2020 election, then, offers the nation a chance to reboot and rebuild from the racist, authoritarian, know-nothing wreckage wrought by the 45th president. And there are few Americans better suited to the challenge than Joe Biden.
[...]
Despite the multiple crises at hand, Biden envisions a revival anchored in unity. "We have too bright a future to have it shipwrecked on the shoals of anger and hate and division," Biden said in an October address near the battlefield at Gettysburg.
The Democrat has delivered more than just happy talk. Biden has been leading by example in his campaign. He showed confidence and bridge-building by tapping his harshest critic from the primary debates, California Sen. Kamala Harris, as his running mate. And Biden has won a diverse backing that would have been inconceivable outside of this 2020 moment. Think of it as a coalition of the decent, ranging from Bernie Sanders, Barbara Lee, and Alexandria Ocasio-Cortez on the left, to "Never Trumpers" John Kasich, Cindy McCain, and Bill Kristol on the right. Biden has promised to be a president for all Americans, standing in contrast to Trump, who has only governed for his partisans and once mused aloud that the nation's pandemic death toll didn't look so bad "if you take the blue states out."
Biden's broad acceptability is his strength. But inside his big tent, Biden's platform offers progressive solutions to every major problem facing the country. And the former vice president has the experience to put that platform into practice:
[...]
The danger of climate change is not a future concern. It is our deadly present. As the wildfires ravaging the West and the record number of named storms in the Atlantic this summer have made clear, we are already living with the dangerous results of accumulating greenhouse gases in the atmosphere. Trump and his party live in denial, rejecting basic climate science and pushing ahead with policies that permit the unfettered drilling of fossil fuels.
Biden, by contrast, believes in science, and names the "existential threat" we are facing in global warming.
[...]
Climate change is a global crisis. And Biden also has the foreign-policy chops, honed over decades of service, to not only reverse Trump's course for America as a rogue nation on climate, but to also reassert U.S. leadership, moving the world toward equitable climate solutions.
[...]
The world has changed, and Biden is responsive to it. His selection of Harris made history, creating the chance that a black woman will be a heartbeat away from the presidency, and Biden has promised that Harris will be his partner in governing America. This decision kept faith with the key Democratic constituency that sealed Biden's nomination. It also built on Biden's promise to be a "transition president" who will pass the baton to what he calls "the most open, the least prejudiced" generation now coming of age in America. A key part of Trump's political project has been to make white supremacy just another ideology in the American political spectrum. Biden promises an America where hate has no quarter. "I made a mistake about something," Biden said recently. "I thought you could defeat hate.?.?.?.?It only hides. And when someone in authority breathes oxygen under that rock, it legitimizes those folks to come on out from under the rocks."
[...]
In contrast to Trump, Biden has a plan for taming the spread of the virus, which would impose a national face-mask mandate and fund the mass deployment of personal protective equipment, testing, and contact tracing, so that schools and businesses might safely reopen.
The challenge of leading an economic recovery is also in Biden's wheelhouse. As vice president under Obama, he led the implementation of the 2009 Recovery Act, steadily rebuilding the U.S. economy from what was then the worst economic downturn since the Great Depression — and doing so without the scandals and self-dealing that have defined the Trump presidency.
[...]
Biden will be confronted with the challenge of rebuilding a government corrupted by Trump and his henchmen. The current administration, led by a president impeached for inviting foreign interference in our elections, has politicized pillars of our government that previously operated above the fray. Attorney General Bill Barr has acted as the president's personal lawyer, telling U.S. attorneys that they work not for the people but for the president. Even the Postal Service has become complicit in Trump's anti-democratic schemes, with Postmaster Louis DeJoy ripping out mail-sorting machines in blue districts to disrupt the election. "At the heart of DeJoy's and the Postal Service's actions," a judge ruled in September, "is voter disenfranchisement."
The daily functioning of our government could, under a Biden administration, be revived following a single Trump term. But if Trump gets another four years, the America as we know it will grow dark and unrecognizable. Corruption at our essential public agencies could take root, and our democracy might never truly recover.
[...]
As much as any specific policy, this election is a referendum on character — the character of the president and the character of the nation. America doesn't need a saint in the Oval Office. But the country has been reeling with a broken man at the Resolute Desk. Trump is a narcissist and an egotist, a shameless liar and an open bigot, a man who simply cannot understand the notion of sacrifice for the greater good, even as he demands unthinking fealty from those in his service.
Biden's lived experience and expansive empathy make him not just a good, but an outstanding candidate. His keen understanding of loss connects him emotionally to the honest struggles of Americans whom he seeks to serve. And it gives Biden the moral authority to ask the rest of us to sacrifice as well. Biden calls us to the responsibilities of citizenship — to think of ourselves as threads in the fabric of our society, of owing allegiance to one another, individually and as a whole, and of seeing ourselves connected to the values at the core of the American experiment.
[...]
Every election presents a stark choice. The contrast between the 2020 candidates — and the coalitions behind them — could not be clearer. This is a fight between light and darkness. Rolling Stone is proud to stand in the light and endorse Joe Biden for president. Vote like your country — and perhaps even your life — depends on it.
Joseph R. Biden, Biden Campaign Press Release - ICYMI: Rolling Stone Endorses Joe Biden Online by Gerhard Peters and John T. Woolley, The American Presidency Project https://www.presidency.ucsb.edu/node/347085