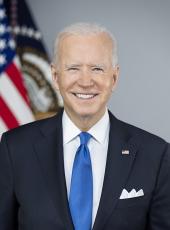 Biden Campaign Press Release - ICYMI: President Barack Obama Travels to Philadelphia to Encourage Voting Early for Biden-Harris
Yesterday, former President Barack Obama traveled to Philadelphia to urge voters to make a plan to cast their ballots early for the Biden-Harris ticket. He first participated in a community discussion in North Philadelphia, where he and local leaders and elected officials emphasized the critical role Black men will play in deciding our next president and encouraged them to turn out to vote. Then, he visited one of Back to Blue Pennsylvania's Voter Activation Centers in the city to thank volunteers for their work helping to elect Joe Biden, Kamala Harris, and Democrats up and down the ticket. Later, he headlined a drive-in car rally, where he explained why Joe Biden is the right leader to meet this moment, highlighting Biden's plans to build back better and support America's working families and communities that have historically been left behind. He told the drive-in audience, "America is a good and decent place. But we've just had so much noise that sometimes, it's hard to remember. Philadelphia, I'm asking you to remember."
Photo credit: Michael M. Santiago/Getty Images
See below for local coverage:
Philadelphia Inquirer: 'Character matters,' Obama tells a drive-in rally for Biden at South Philly's stadium complex
[Julia Terruso, Sean Collins Walsh, 10/21/20]
Former President Barack Obama delivered a punishing rebuke of his successor Donald Trump's tenure and a clarion call to supporters for his old running mate Joe Biden at a drive-in rally outside Citizens Bank Park as the sun set Wednesday night.
Trump's tone and the misinformation he spreads have poisoned American political discourse, Obama said on his first day stumping for Biden on the 2020 campaign trail.
"It affects how our children see things, and it affects the way our families get along," Obama said as supporters cheered and hundreds of drivers slammed their horns in support. "It affects how the world looks at America. That behavior matters. Character matters."
Elections, Obama said, are about voters asking themselves if they're better off than they were four years ago.
"Four years ago you'd be tailgating here at the Linc instead of watching a speech from your cars," Obama said from a podium with Lincoln Financial Field behind him. "Philadelphia, we got 13 days. That's our lucky number — 13 days until the most important election of our entire lifetime."
Biden, he said, is ready for the presidency because of his experience in the Obama administration.
"For eight years, Joe was the last one in the room when I faced a big decision," Obama said. "He made me a better president. And he's got the character and experience to make us a better country."
[...]
The campaign's decision to send Obama first to Philadelphia signals how important the state — and Black turnout in its largest city — is to Biden.
Although African American voters overwhelmingly favor Biden, the Democrat has polled comparatively worse with young Black men than with women.
That could partly be because Trump has made it part of his reelection campaign to appeal to Black male voters.
[...]
Before his speech at the Phillies' stadium, Obama made an unannounced stop at the Hank Gathers Recreation Center on Diamond Street in North Philadelphia. There, he met with community organizers and Democratic elected officials from Philadelphia, including U.S. Rep. Dwight Evans, State Sen. Sharif Street, State Rep. Malcolm Kenyatta, and City Councilman Isaiah Thomas, who are all African American men.
"It is always great to be in Philadelphia, in part because this reminds me of home back in Chicago," Obama said at the forum. "When I see what's going on here, it's no different than on the South Side or the West Side of Chicago. We're confronting the same challenges."
Asked how community leaders can engage young people who feel disconnected to the political process, Obama said: "To acknowledge to them voting alone isn't going to change everything, because young people are sophisticated, so there's no point in overhyping what happens." Instead, he said, it's important to show them that change is possible over time, and that voting is critical to making it happen.
"The truth is I'm very proud of my presidency, but it didn't immediately solve systemic racism. … What I always tell young people is we did make things better," Obama said. "One of the biggest tricks that's perpetrated on the America people is this idea that government is separated from you. The government is us — of, by, and for the people. It wasn't always for all of us. But the way it's designed, it works for who is at the table. And if you do not vote, you're not at the table."
Photo credit: Elizabeth Robertson/Philadelphia Inquirer
WHYY: Obama at Philly Biden rally: 'You've got to turn out like never before'
[Katie Meyer, 10/21/20]
Former President Barack Obama visited Philadelphia Wednesday for his first in-person campaign events of the election cycle on behalf of Joe Biden.
At an evening drive-in rally at South Philly's Citizens Bank Park, his message was grounded in what he framed as a return to "American values."
"You know Joe," Obama said of his former vice president. He said Biden would preserve the Affordable Care Act, could carry out a reasonable plan to stop the coronavirus pandemic from spreading, and would not say "crazy" things.
"We have to reclaim them," Obama said. "We have to get those values back at the center of our public life."
To do it, he told Philadelphians, "you've got to turn out like never before."
[...]
Perhaps his harshest criticism of Trump was for his handling of the pandemic.
"I want to be honest here," Obama said. "This pandemic would have been challenging for any president. But this idea that somehow this White House has done anything but completely screw this up, is just not true."
He said Biden and Harris promise a return to normalcy, because "you're not going to have to think about the crazy things they say everyday … You might be able to have a normal Thanksgiving dinner."
Obama also urged Philadelphians to vote for Democrats in down-ballot races, noting that in order for Pennsylvania's House and Senate to return to Democratic control for the first time in years, just nine seats in the House and four in the Senate need to flip.
[...]
On Wednesday, at least, Obama would circle around after each critique of Trump and return to a positive message.
"America is a good and decent place. But we've just had so much noise that sometimes, it's hard to remember," he said. "Philadelphia, I'm asking you to remember."
KYW Newsradio: In South Philadelphia, Obama campaigns for Biden
[Andrew Kramer, 10/21/20]
In a change from the virtual rallies we've been seeing, former President Barack Obama campaigned for Democratic presidential nominee Joe Biden Wednesday night at a drive-in rally in South Philadelphia.
With a big "hello Philadelphia," Obama kicked off his 30-minute rally, where he stressed over and over again the importance of getting out and voting.
"Thirteen days until the most important election of our lifetime. And you don't have to wait for Nov. 3 to cast your ballot," he said.
In fact, he told everyone to vote as soon as possible.
At the rally, he brought up Obamacare, and got a mix of cheers and honks when he spoke in support of the Black Lives Matter protests.
"It's really exciting. It's very nice. What's great is everyone is social distancing and being real careful. It's nice politicians are concerned about the people that are there watching them, making sure they're safe," said Johnny King-Marino, who attended the rally.
Attendees were told to stay in their cars, but once Obama hopped on the stage, many got out of their cars and headed to the barriers.
CBS3: Former President Barack Obama Fires Up Crowd At South Philadelphia Rally For Joe Biden
[Natasha Brown, 10/21/20]
[...] Obama's trip to Philadelphia underscores the importance of Pennsylvania as a battleground state.
"You know Joe, the scrappy guy from Scranton. He knows you, he understands your issues," Obama said.
Striking a personal tone, the former president implored voters to support the Biden-Harris ticket, calling this the most important election in our lifetime.
[...]
The ticketed event of about 200 people is made up of mostly Biden-Harris campaign volunteers. All say they want to see change.
"I'm super excited. I've been working with students since March, trying to get everybody registered in the Philadelphia School District, so I have a team of students I've been working with and they're so excited and have really been putting in the work to get their peers registered and ready," voter Angelique Hinton said.
"I'm thinking about having real leadership and solutions to our many, many problems that we have in this country," voter Allison Glickman said.
Just before taking the stage at the sports complex, Obama met with a small group of Black male leaders and male voters in North Philadelphia to discuss issues affecting their communities and to impress upon them the importance of their voting presence in this election.
"It's not that voting makes everything perfect, it's that it makes things better," Obama said at the meeting.
"I think Black males are going to shock a lot of people. I think we're gonna come out 96% for Vice President Joe Biden. I think people are galvanized to come out here to vote, they're energized and I think that — I don't want to get too political — but we have a reason to come out here and vote," voter Hassan Freeman said.
Photo credit: Michael M. Santiago/Getty Images
Pennsylvania Capital Star: 'This is not a reality show, this is reality': With two weeks to go, Obama stumps for Biden in must-win Pa.
[Kenny Cooper, 10/21/20]
Former President Barack Obama laced into his successor Donald Trump on Wednesday, casting the race for the White House as a fight for the nation's future amidst a resurgent pandemic.
"The president spent some time in Erie last night and apparently he complained about having to travel here," Obama said at the drive-in campaign event at Citizens Bank Park. "I don't feel that way. I love coming to Pennsylvania. You guys delivered for me twice and I am back here tonight to ask you to deliver the White House for Joe Biden and Kamala Harris."
The former president contrasted the two candidates looking to take control of the executive branch.
"I've sat in the Oval Office with both of the men who are running for president," Obama said. "And they are very different people."
Philadelphia Tribune: Obama stumps for Biden before roaring turnout in Philadelphia
[Jamyra Perry, 10/21/20]
West Philadelphia resident Sozi Tulante was front and center at the rally with his two young daughters -- 9-year-old Sengele and 7-year-old Zolana -- because he said it was the right thing to do.
"I have a poster of John Lewis. I remember before he passed he kept saying, 'You got to make sure our children know the sacrifices are made, so they can vote,' " he said in recalling the late congressman and civil rights icon.
"I take them voting every time I go. They got 'I Voted' stickers all over because we voted on Saturday. They came with me to drop off the ballot, because they can't take it for granted," the dad shared.
[...]
As a small black van carrying Obama pulled into the parking lot outside the baseball stadium in South Philadelphia, the crowd erupted in cheers that continued as he took the stage. The former president who served two terms before being replaced in 2017 by Republican Trump wasted no time getting into why he was here.
"We got 13 days -- 13 days until the most important election of our lifetimes," Obama told the crowd. "You don't have to wait for November 3 to cast your vote. This election requires all of us to do our part. What we do in these next 13 days will matter for decades to come."
6ABC: Obama blasts Trump during rally for Joe Biden in Philadelphia
[Christie Ileto, 10/22/20]
[...] With less than two weeks before Election Day, Obama used a drive-in campaign rally in Philadelphia to assure voters that Biden and his running mate, Kamala Harris, can mend a fractured country. He lauded the merits of democracy and citizenship as "human values" that the United States must again embrace.
[...]
"I'm asking you to remember what this country can be," Obama said. "I'm asking you to believe in Joe's ability and Kamala's ability to lead this country out of these dark times and help us build it back better."
[...]
Obama paid heed especially to disillusioned voters, including Black men and progressives wary of Biden. He urged them not to sit out the Nov. 3 election, warning that complacency from some liberal voters is what helped Trump get elected four years ago.
"What we do these next 13 days will matter for decades to come," Obama said. "The fact that we don't get 100% of what we want right away is not a good reason not to vote."
[...]
Noting Trump's penchant for insulting "anybody who doesn't support him," Obama vouched for Biden's "empathy (and) decency," and he argued the distinction matters beyond style.
"Why would we accept this from the president of the United States, and why are folks making excuses for that?" Obama said. "There are consequences to these actions. They embolden other people to be cruel and divisive and racist."
Joseph R. Biden, Biden Campaign Press Release - ICYMI: President Barack Obama Travels to Philadelphia to Encourage Voting Early for Biden-Harris Online by Gerhard Peters and John T. Woolley, The American Presidency Project https://www.presidency.ucsb.edu/node/347145