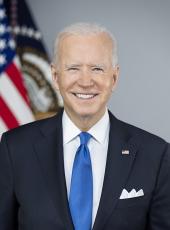 Biden Campaign Press Release - ICYMI: Penny Pritzker in Yahoo Finance: Why Joe Biden Would be the Real Jobs President
Today, in a blistering op-ed, former Secretary of Commerce Penny Pritzker rips apart Donald Trump's core economic pitch to the American people stating that it is "completely divorced from reality" and likens it to a "football coach declaring victory after the third quarter only to then get blown out in the fourth quarter." In her op-ed, Pritzker outlines the promises that Trump has yet to deliver on, while simultaneously shedding light on the economic pain that working families are currently experiencing. By the same token, Pritzker asserts who the real jobs president would be: Joe Biden. And how the data surrounding the Biden economic plan re-affirms that it "will not only help our country recover from the disastrous effects of the Trump coronavirus response — it will create millions of good paying jobs."
Yahoo Finance: Penny Pritzker: Op-Ed: Why Joe Biden would be the real jobs president
When it comes to the economy, Donald Trump is essentially asking us to judge him only on his first three years in office. What he fails to mention is that his record over the last nine months represents the worst federal mismanagement of a crisis in our nation's history. It's akin to a football coach declaring victory after the third quarter only to then get blown out in the fourth. But this is no game, and Donald Trump's ineptitude in dealing with the coronavirus has amassed a staggering human toll with more than 220,000 American lives lost and tens of millions of livelihoods on the brink.
The Trump economic argument has never made any sense and is yet another example of the president's rhetoric being completely divorced from reality. President Trump has consistently overpromised and under delivered, touting a record that was not great even before the crisis. He promised greater job growth than President Obama, but in his first 36 months in office, fewer jobs were created per month than during that same period in President Obama's first term.He promised to bring back manufacturing jobs and a "complete revitalization" of the industry, but according to the Institute of Supply Management, even before the crisis the sector had contracted to the lowest level since 2009. He promised tax relief would pay for itself and deliver 4 percent annual growth, but instead gave us the largest federal debt in our history. And he promised to win the trade war against China but the trade deficit is at a record high.
Now, President Trump's mismanagement and lack of a coherent national strategy has made our economic pain much deeper and painful than it needed to be for far too many American workers, businesses and families:
30 million workers have either lost hours, lost paychecks, or lost their jobs entirely;
8 million Americans have slipped into poverty since May;
More than 400,000 small businesses have collapsed;
A plan that will create millions of good paying jobs
In contrast, Joe Biden has a plan to get our economy and our lives back on track. First and foremost, he will get the virus under control by trusting science, facts and expertise rather than flouting CDC guidelines on a daily basis. He will implement a smart and robust contact tracing plan, strengthen our public health infrastructure and most importantly lead by example.
The Biden economic plan will not only help our country recover from the disastrous effects of the Trump coronavirus response — it will create millions of good paying jobs. The data is clear: According to recent analysis from Moody's, the Biden economic plan will create 7 million more jobs than Donald Trump over the next four years and help increase the average American's after-tax income by $4,800 per year.
The Biden economic plan represents an approach that I have long advocated for: a focused, long-term economic competitiveness strategy that better supports our workers and makes massive and historic investments in America's job creation engines of the future. This includes smart investments in clean energy innovation; early stage technologies such as 5G, quantum computing, and AI; regional economic development; upskilling, education and workforce adaption; infrastructure; and strengthening our social safety net by providing access to programs and health care for those who need it most.
This approach also recognizes the reality that U.S. public investment in R&D is at its lowest level since 1955; this investment is not just critical to breakthrough discoveries but to American leadership. Make no mistake, the power of American ingenuity is what the Chinese respect about us. Under Joe Biden's leadership, we will stand up to China by fortifying the entrepreneurs and innovators that make up the fundamental architecture of America's tools for growth, rather than pursuing an incoherent, bellicose trade strategy in a game of chicken without any winners.
No matter how much he tries to spin his economic record by not giving us the full story, Donald Trump can't hide from the fact that he will be the only president in roughly 90 years to leave office with fewer jobs than when he took office.
I have built a number of businesses and know that government can help create the conditions for businesses and workers to thrive. Every week, I speak with many business leaders — Republican and Democrat — that see a lot to like in the certainty, stability, competency and more inclusive economic growth that will come with a Biden presidency. They much prefer this coherent approach over the daily chaos and division. They know who the real jobs president will be.
Joseph R. Biden, Biden Campaign Press Release - ICYMI: Penny Pritzker in Yahoo Finance: Why Joe Biden Would be the Real Jobs President Online by Gerhard Peters and John T. Woolley, The American Presidency Project https://www.presidency.ucsb.edu/node/347143