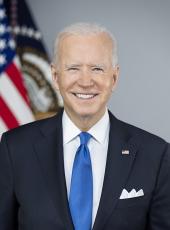 Biden Campaign Press Release - ICYMI: Kamala Harris Joins Virtual Women for Biden Rally
Yesterday, Kamala Harris spoke at Women Mobilize for Biden-Harris, a virtual rally hosted by Women for Biden and featuring key women leaders. The rally focused on what's at stake in this election, including reproductive rights and health care, and how women can vote and use their voice to help mobilize in the final 12 days of this election.
In addition to Senator Harris, featured speakers included Alexis McGill Johnson, Planned Parenthood Action Fund; Stephanie Schriock, EMILY's List; Ilyse Hogue, NARAL Pro-choice America; Cecile Richards, Supermajority; and advocates Aimee Allison, Destiny Lopez, and Elsa Osorio Carmona. Biden for President senior advisor Symone Sanders emceed the rally.

Click HERE to watch the rally.
Senator Harris began the event by thanking these leaders for their work to lift up women and win this election: "This fight is a fight for equality and equity, and when we lift the condition, the status, and the spirits of women, everyone benefits," Senator Harris said. "We want to make sure that we continue to do what we do, which is to organize folks, to mobilize, and to remind people to vote and vote like never before."
She responded to a question from advocate Elsa Osorio Carmona about President Trump's Supreme Court nomination, "It is important to us – to Joe Biden and to me – that the people who are making decisions about the rights of women to control their bodies, that those people respect the agency and the power and the authority of women to make the decision that are in their best interests," Senator Harris said. "It should not be Donald Trump and it should not be Mike Pence making those decisions for the women. And so that is why we fight, and Joe Biden and I will fight to ensure that we protect a woman's rights to make her own health care decisions, her own reproductive health care decisions."
In addition, she responded to a question from reproductive justice leader Brittany Mostiller about getting out the vote: "Let's remind everyone to vote early… Let's remind everyone of their power. We are so powerful as women. We are so powerful. We have to remember that no one gets to give us our power. We are born with it. It is ours. The thing is to never let anyone take your power... to know that power you were born with… and that includes around election time using your powerful voice to vote early."
Asked about the stakes for reproductive rights in the 2020 election, NARAL Pro-Choice America President Ilyse Hogue responded, "Absolutely abortion is on the ballot. Absolutely reproductive freedom is on the ballot… But it's really a question of cruelty versus compassion. Joe Biden and Kamala Harris have compassion. Let's have those conversations. Let's tell the truth. Let's take this over the finish line. And we are in it to win it."
Supermajority Founder Cecile Richards discussed other issues at stake in this election, including health care and economic progress: "For women in this election, everything is on the line, and this is about how we turn our rage into the fuel that's going to power us through election day and beyond. We need a president and vice president who understand just what it's like to be a woman in America right now because it's women and especially women of color who have been keeping this country running the last seven months… This economy is taking a devastating toll on women: Over 800,000 left the workforce just last month alone and they are disproportionately Black and Latina. Others are struggling to balance jobs and child care while doing more than their fair share of work around the house. All of this is happening while Donald Trump and Republicans in the Senate are rushing to confirm a SCOTUS nominee who will take away our reproductive rights and health care for millions."
President and CEO of Planned Parenthood Federation of America Alexis McGill Johnson discussed how the Biden-Harris ticket would build back better for women: "It is not enough just to restore the status quo. With Joe Biden and Kamala Harris in office there is so much potential for real growth and real progress and to reimagine reproductive health as part of our personal freedom, not just as a women's issue, but an opportunity to really build back better."
Emily's List President Stephanie Schriock spoke of the importance of electing pro-choice women and encouraged everyone to work hard to elect the Biden-Harris ticket: "We do this work because it is critical to protecting our democracy and our rights, especially when it comes to choice… Women are going to decide this election... We have to make sure that Joe Biden and Kamala Harris win because our rights and our democracy depend on it."
Advocate Aimee Allison discussed the fight for racial and gender justice: "We need to set up an agenda that focuses on our rights, gender rights and reproductive rights and have a whole plan, not only to heal the wounds of the last four years, but to reimagine our role as women of color."
Advocate Destiny Lopez discussed her vision for the country where access to abortion and health care is available to all: "We need leaders who understand the toll of restriction after restriction that is puts abortion further and further out of reach. We need leaders who understand that the burden falls most heavily on Black and Brown women… We need leaders who understand that reproductive justice, economic justice, racial justice are all connected… And that's why I was proud to vote early in North Carolina, the Tar Heel State, for Joe Biden and Kamala Harris…"
Symone Sanders closed out the event with a call to action, urging attendees to make a plan to vote at iwillvote.com and to phone bank and join the final Women for Biden GOTV weekend.
Joseph R. Biden, Biden Campaign Press Release - ICYMI: Kamala Harris Joins Virtual Women for Biden Rally Online by Gerhard Peters and John T. Woolley, The American Presidency Project https://www.presidency.ucsb.edu/node/347128