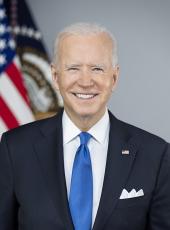 Biden Campaign Press Release - ICYMI: Joe Biden Joins "Unlocking Us with Brené Brown"
Joe Biden joined Brené Brown for a conversation on empathy, unity, and courage for her podcast "Unlocking Us with Brené Brown." In the interview, Vice President Biden discussed what he values in leaders, the importance of empathy and vulnerability, the crises facing our nation, and how to bring the country together.

Listen to the full episode HERE.
Biden discussed how he views leadership and what makes a strong leader: "Leadership at its core, in my view, is about being personal, it is about being engaged. It's about trying to always put yourself in the other person's position and to also understand where they are coming from, whether it's a major foreign leader or a friend who you have a disagreement with, and it's also being willing to share credit, give recognition, and you know, share in the benefits as well as in the losses if you're in an endeavor together. And I think the hardest thing for most people is being willing to expose yourself to criticism and ridicule in order to change a damaged culture… It's about surrounding yourself with people who are smarter than you. They have assets you don't possess. And... never confusing academic credentials with good judgement… and understanding the concept of duty, that realizing character is based on honesty and avoiding rationalizations… Rationalization is a default for so many people. My dad used to say, character, Joe, is built on a thousand little things that demonstrate your integrity. It's no one thing. It's a thousand little things."
They also spoke about leading with vulnerability and empathy. He said, "The leaders that I have admired over my career have been people that have demonstrated both of them. We all have our weaknesses, but not being able to understand where the other woman or man is coming from, without understanding what pain is, without understanding what people are going through. People always talk about the things that have happened in my life, so on and so forth. But so many people have gone through what I have gone through without any of the kind of help that I have had, with any of the kind of foundation."
Biden concluded by praising Brown for her work: "There are so many women you're inspiring...We cannot, we cannot survive if women in our society aren't fully, thoroughly, totally integrated into everything we do. I mean, for real."
For more on our response to COVID-19, our nation's reckoning with systemic racism, and the fight that is underway to defend our democracy and win the battle for the soul of our nation, the full podcast is below:
Spotify: Unlocking Us with Brené Brown: Brené with Joe Biden on Empathy, Unity and Courage
[10/21/20]
Joseph R. Biden, Biden Campaign Press Release - ICYMI: Joe Biden Joins "Unlocking Us with Brené Brown" Online by Gerhard Peters and John T. Woolley, The American Presidency Project https://www.presidency.ucsb.edu/node/347121