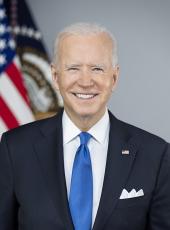 Biden Campaign Press Release - ICYMI: Jill Biden Joins Military Mom Kellie Artis for a Conversation Hosted by Scary Mommy on Helping Families Thrive
Tonight, Jill Biden joined military mom Kellie Artis for a virtual conversation hosted by Scary Mommy. In this conversation, Biden and Artis discussed the challenges facing military families, the Bidens' commitment to supporting military families and veterans, and Vice President Biden's plan to safely reopen schools.

Watch the conversation HERE.
Artis shared the difficulties of being a "default parent" during her husband's deployment during the pandemic and managing day-to-day caregiving responsibilities with a career. "It's been real. It's been something. My husband deployed back in November… I did the bulk of the early pandemic by myself… It was really stressful. It's stressful anyway being what we call the 'default parent'… because a lot of the decisions rest on our shoulders… We're doing the best we can. It's the day-to-day that is most exhausting though, just the logistics. Even having support at home has been immensely helpful with him returning from overseas, but it's still everyone's struggle right now: the day-to-day."
Biden recognized the burden that is falling on moms: "The moms... are the glue of the family. They are the ones who arrange the meals, doing most of the Zoom, handling their own career, and making sure everyone is safe… it falls on the moms' shoulders. It really does."
The conversation also focused on the Vice President's plans to safely reopen schools. Biden said: "It's so important to me, as you know. Nobody wants to be back in the classroom more than educators do, but the first thing we need to do is get this virus under control. We have to listen to the doctors and the scientists. We have to make sure that everyone has access to COVID-19 testing. That's imperative. And make sure the future vaccine is safe and effective… We have to protect our communities… We have to make sure our schools have the correct guidance and the support."
The conversation closed with a question from Kellie's daughter Hannah, who said she was urging people to vote for kids like her and asked what else people can do to help the country. Biden responded, "People have to go out and vote. They must. Thank you for doing that. I know there are a lot of kids like you worried about what's going on... I really appreciate that you are so involved in your community and taking responsibility and getting other people involved."
Joseph R. Biden, Biden Campaign Press Release - ICYMI: Jill Biden Joins Military Mom Kellie Artis for a Conversation Hosted by Scary Mommy on Helping Families Thrive Online by Gerhard Peters and John T. Woolley, The American Presidency Project https://www.presidency.ucsb.edu/node/347119