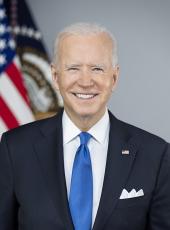 Biden Campaign Press Release - ICYMI: Glamour: Zooming with Doug, Cole, and Ella Emhoff a Week Before the Election
Today, Glamour published a conversation with Doug, Cole, and Ella Emhoff on how they are connecting as a family during the pandemic, their relationship with Kamala Harris, their work on the campaign trail in support of the Biden-Harris ticket, and the power of women running for office.

Read the conversation HERE, as told to Glamour Culture Editor Mattie Kahn.
In the conversation, Doug Emhoff shared his pride in Senator Harris and the strong women in their lives: "I love being surrounded by strong women. I'm glad to have had a strong mother. She's got what we call street smarts, but she's also so intelligent. It's just all I knew. When I got older, it made sense that I would want to continue to be around smart, powerful women. But also women who are funny and compassionate and actually want to do good in the world. People talk about it like it's something unique or a big deal, but I think, 'Well everyone should want to know strong women and support them.' Wouldn't the world be a better place if we had strong women in office and in business and in leadership roles? And now we've got Maya and Meena [Kamala's sister and niece]—the Harris women!"
He also reflected on his work on the campaign trail, meeting with Americans across the country and discussing the challenges in their lives: "When you're on the road like this and you see what's going on in other people's families, it just gives you so much time to reflect. It's really opened my eyes, frankly. And it's made me a better surrogate because I listen and I take it back to Kamala and Joe. And then it informs what the campaign is talking about."
Ella shared what it was like to watch the vice presidential debate: "Separating her familial relationship to me, I think it's super long overdue. It's so empowering to see someone who's so sure of herself and is not going to back down. What's so important about her is that she's super comfortable with her assertiveness. She doesn't see that as a weakness, and she's not scared. To see someone who is running like that with Joe for the highest of offices—I hope it will open up the floodgates for a lot more women and especially women of color to just run and then hopefully make it to the top. I think that we've needed someone like her to come along."
Cole added, "I do think that with Kamala, she is herself on stage. She's sincere and I think that's what I hope also people will learn about her. It's the same with Joe, and I think that's what garners attention and respect and trust from voters."
Joseph R. Biden, Biden Campaign Press Release - ICYMI: Glamour: Zooming with Doug, Cole, and Ella Emhoff a Week Before the Election Online by Gerhard Peters and John T. Woolley, The American Presidency Project https://www.presidency.ucsb.edu/node/347109