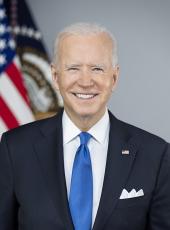 Biden Campaign Press Release - ICYMI: George Lopez, Shea Serrano, Luis Gutiérrez, Jesus Contreras and Biden for President's Cristóbal Alex Host 'Luchadores' con Biden to Mobilize Latinos
On Tuesday, George Lopez, Shea Serrano, Congressman Luis Gutiérrez and Jesus Contreras, a DACA recipient and a Houston-area paramedic came together for a GOTV 'Luchadores' con Biden roundtable. Luchadores translates to 'fighters' in English.
The virtual roundtable focused on Joe Biden's plan for Latinos, issues facing the Latino community and the role Latino men have to play in bringing positive change to our country. The talk was moderated by Senior Advisor Cristóbal Alex and broadcasted on El Rey Network's digital platforms. Luchadores con Biden is a part of a nationwide mobilization of Latino voters.
The Luchadores Event with George Lopez, Shea Serrano, Jesus Contreras and Congressman Luis Gutiérrez and Cristóbal Alex
[El Rey Network: Tuesday, October 27, 2020]
"Joe Biden has said this country is so much stronger because of immigrants and on day one he will protect DREAMers and their families," said Cristóbal Alex.
"We have multi-generations in a house — if a young Latinx person is voting and if they have a mom or an uncle, or somebody that's not planning on voting, they need to discuss voting with them," said George Lopez.
"Look, if the grandson of a prominent member of Congress has to worry about his tias and tios, hermano, we're all in this together so I say hey, let's go and vote," said Congressman Gutiérrez.
"Simply because I can't vote does not mean I do not have a role in this election. I encourage all the Latino men out there, if you have to push your family members, girlfriend, boyfriend, friends at school and everyone that you know to vote for you and that their voice is yours," said Jesus Contreras.
"You see Trump with COVID, just watch Trump with Hurricane Maria in Puerto Rico, it's the same play. He just turns his back and he doesn't do his job and he's cruel," said Congressman Gutiérrez.
"When I was watching the debate I felt what a lot of us feel…you hear [Trump] talk about the way that [COVID-19] is affecting lives and [Trump] does so in a way that very clearly makes it seem like he doesn't care about any of this. And [COVID-19] is affecting us directly. My three sisters have to go to work every day. My nieces have to go to school and it doesn't feel safe. [Trump] acts like it's fine" said Shea Serrano.
"We need to get Joe Biden elected so we can rebuild the economy once he stops the pandemic," said Cristóbal Alex.
"Nobody is coming to save us, we have to save ourselves," said George Lopez on why he's encouraging Latinos to vote and supporting Biden-Harris.
Joseph R. Biden, Biden Campaign Press Release - ICYMI: George Lopez, Shea Serrano, Luis Gutiérrez, Jesus Contreras and Biden for President's Cristóbal Alex Host 'Luchadores' con Biden to Mobilize Latinos Online by Gerhard Peters and John T. Woolley, The American Presidency Project https://www.presidency.ucsb.edu/node/347107