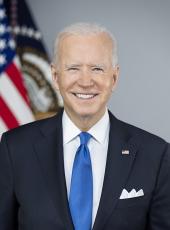 Biden Campaign Press Release - ICYMI: Former RNC Chairman Michael Steele Endorses Joe Biden for President
Today, on MSNBC's Morning Joe and in a forceful op-ed published on NBC Think titled: I'm a Republican voting for Joe Biden over Trump. Because I'm an American first, Michael Steele announced his support and endorsement of Joe Biden for President. In both his interview and op-ed, Steele criticizes Donald Trump's abdication of leadership and points to how instead of "binding up the nation's wounds, Trump exacerbates division." Steele goes on to discuss how this election is not about differences in issues or policies, but about "the course of a nation and the character of her people reflected in the leader they choose."

Watch HERE.
"This election is about us as Americans. The person we put in that [oval] office behind that resolute desk is an extension of us. They reflect the good, the bad, the ups and downs of us, and at the end of the day we come to rely on them to do the right thing and that has moved me to this moment. Joe Biden is the guy right now for me, along with a lot of other Republicans who are saying the same thing that can make this moment matter— make America matter a lot more than it has so far," said Michael Steele.
Michael Steele was the first African American elected to statewide office in Maryland, where he served as lieutenant governor of Maryland, and the first African American to serve as the chairman of the Republican National Committee. Steele joins a long list of Republicans for Biden that includes former Arizona Senator Jeff Flake, Governor John Kasich, Congressman Charlie Dent, Congresswoman Susan Molinari and many more former members of Congress. To this point, Joe Biden has also welcomed support from the alumni of Senator Mitt Romney's 2012 presidential campaign, more than 200 alumni of former President George W. Bush's administration, and notable Republican appointees including Donald B. Ayer, Alan Charles Raul, Charles Fried, Stuart Gerson, Peter Keisler and more. The outpour of support Joe Biden has received from colleagues across the aisle further highlights what's at stake in this election and that Trump's failures as President have superseded partisanship.
Joseph R. Biden, Biden Campaign Press Release - ICYMI: Former RNC Chairman Michael Steele Endorses Joe Biden for President Online by Gerhard Peters and John T. Woolley, The American Presidency Project https://www.presidency.ucsb.edu/node/347104