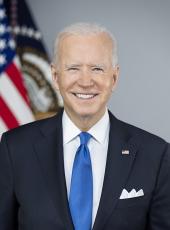 Biden Campaign Press Release - ICYMI: Briefings Provide Regional Business & Economic Leaders with Tools on Biden's Economic Plan and the Training to Get Out the Vote
This week, Biden for President invited business & economic leaders from across the country to join regional Business Leader Briefing events focused in the Midwest, South, West, and Northeast. Several of the briefings also featured special guests including Penny Pritzker, Former Secretary of Commerce and Steve Benjamin, Mayor of Columbia South Carolina. In each of the briefings, attendees discussed the economic case for why Joe Biden is the right leader to rescue and rebuild our economy after Donald Trump's mishandling of COVID-19. The briefings also provided training and tools to help business leaders activate voters in their networks and local communities and outlined Joe Biden's plan to Build Back Better.
The event series featured senior policy and coalitions staff including Ben Harris, Former Chief Economist to Vice President during the Obama-Biden Administration Connor Maxwell, Policy Analyst for Biden For President, & Rhett Buttle, National Business Advisor. Each briefing concluded with a non-partisan training led by Business Forward on how businesses can encourage their employees to get out the vote.
See below for highlights from the events:
"The Vice President has laid out a very detailed tax policy. The first principal is, and I want to be clear on this, no one making less than $400,000 will be asked to pay a single penny more in taxes, said Ben Harris, former Chief Economist to Vice President during the Obama-Biden Administration. "The Vice President is simply not going to ask the middle class to shoulder the burden for all these investments. In fact there are actually eighteen separate middle class tax cuts. Everything from $15,000 for a first time home buyer, an $8,000 child care tax credit, and equalizing retirement saving incentives."
"Vice President Biden has laid out detailed plans on how to provide robust and ongoing support for the small businesses that need it," said Connor Maxwell, a Policy Analyst for Biden for President. "Specifically, he's been calling for a complete overhaul of the Paycheck Protection Program to guarantee that all small businesses with less than 50 employees get relief. Small businesses should not have to be competing against each other for scarce resources while big corporations have access to all the funds that they need. He's also calling for an end to the racial inequity we've seen throughout these programs. We need to restructure the way that funds are being administered so that you're able to obtain relief even if you don't have pre-existing banking relationships or a team of lawyers and accountants."
"Tragically more than 400,000 small businesses have collapsed in the wake of Trump's mismanagement of the current crisis," said Penny Pritzker, former Secretary of Commerce. "Joe Biden knows that small businesses are the engine of the American economy and that they've suffered disproportionately from the pandemic and the economic crisis. As president, Joe Biden will wake up every day doing what he has always done - giving our businesses and our workers the tools and support they need to come back and thrive."
"Build Back Better will work to make sure small businesses who have been struggling under the weight of this pandemic get their feet back up under them across this country," said Steve Benjamin, Mayor of Columbia South Carolina. "We know that this plan will create at least seven million more jobs under a Biden-Harris administration than under the current administration. We know that we need Joe Biden - a clear eyed, thoughtful, compassionate look at building an America that focuses on our businesses and small businesses."
"We can't do any of these really important policy goals unless we win this election. As business leaders, you play an important role in your communities with your employees and your neighbors and your friends. People listen to what you say. What you say, it really matters," said Rhett Buttle, Biden for President Advisor for Business Engagement. "We want to make sure we equip you, as business leaders, to do what you can do to help get out the vote."
Joseph R. Biden, Biden Campaign Press Release - ICYMI: Briefings Provide Regional Business & Economic Leaders with Tools on Biden's Economic Plan and the Training to Get Out the Vote Online by Gerhard Peters and John T. Woolley, The American Presidency Project https://www.presidency.ucsb.edu/node/347177