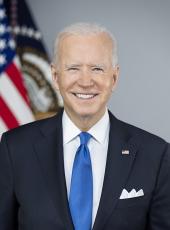 Biden Campaign Press Release - ICYMI: Biden for President Featured in Faith News This Week
This week, Biden for President faith outreach and engagement efforts were featured in multiple stories, as momentum for the Biden-Harris ticket grows among people of faith, who see that Joe Biden and Kamala Harris are the clear moral choice in this election.
Earlier this week, the Washington Post covered the Biden campaign's outreach to Catholic voters, a key constituency in this election, highlighting Joe Biden's own Catholic faith, new targeted ads on TV and radio featuring Catholic voices, and the campaign's faith organizing strategy. The week also saw additional faith leaders speaking out in support of the Biden-Harris agenda, including former faith advisor to President Barack Obama, Michael Wear, and Rob Taber, national director of Latter-day Saints for Biden-Harris. And as the campaign works to mobilize voters of faith with less than three weeks until election day, grassroots organizations are stepping up to highlight the stark moral contrast in this election, launching a billboard campaign in the key battleground state of Michigan.
With growing support from a diverse coalition of people of faith and just 17 days to go, Believers for Biden is making the case that this election is about both restoring and redeeming the soul of the nation, that the Biden-Harris agenda is deeply aligned with the common good values of people of faith, and that Joe Biden and Kamala Harris are the clear moral choice in this election.
See below for coverage excerpts:
The Washington Post: Biden reaches out to Catholics like himself, embracing a key group in big 2020 states
[Matt Viser, 10/14/20]
Joe Biden often crosses himself and looks toward the sky when saying something he jokingly might need to apologize for, regularly referring to the nuns who taught him during 12 years in Catholic school.
Now, several recent TV ads from Biden's campaign show him standing with Pope Francis or huddled with a Jesuit priest. He's reading from a pulpit, bowing his head in prayer, or standing solemnly in front of a church's stained-glass window. And a radio spot includes a parishioner from Biden's home church talking about how the Democratic presidential nominee is a regular at Sunday Mass.
"That's Joe Biden, a man guided by faith," she says.
USA Today: Trump hasn't 'saved Christianity' and Christians shouldn't save his presidency
[Michael Wear, 10/13/20]
The effects of Donald Trump's vulgarity, incivility, and cruelty have not stayed confined to politics, but have affected our culture, our families and our churches. While the toxicity of our politics won't be completely excised once Trump has left the White House, we can't even hope for healthier politics while he's still president.
It is Biden who has run a campaign that has promised to decrease the antagonism in our politics, not Trump. It is Biden who has committed to pursuing racial justice from the basis of our shared humanity, as opposed to Trump's consistent use of race as a tool to tear the American people apart. It is Biden who insists political opponents can be good people, and that those who have a different perspective must still be valued members of the American family.
This isn't just rhetoric; we've all seen Joe Biden live it. And we've seen the life and leadership of Trump. We've seen enough.
The Fayetteville Observer: Trump harms religion; Biden unites faith communities
[Rob Taber, 10/14/20]
Our city, at its best, is one that brings people together. Live here long enough, and one will make friends who are Quaker, Jewish, Baptist, Muslim, Hindu, secular, Methodist, Adventist, Buddhist, Greek Orthodox, Catholic, and, yes, Latter-day Saint (nine congregations in Cumberland County). There's a reason we are proud to call ourselves an All-America City.
I see these values reflected in Vice President Biden, who has repeatedly said that he plans to "unite the nation." He's "running as a Democrat" but is "going to be everyone's president." This people-first commitment is why he's been endorsed by prominent conservatives, including former US Senator Jeff Flake (R-Arizona) and 2016 presidential candidate Evan McMullin, as well as over 1,200 Latter-day Saints.
We have critical issues facing us as a country, including an out-of-control pandemic, an economy on the brink, the legacies and realities of systemic racism, and the damage caused by neglecting our shared natural world. We need a president who is ready, who isn't suing to take health care away, who will follow the science, who heals, rather than divides, and who will restore civility, care, and empathy to national life. Joe Biden values my values and I am excited to cast my vote for him.
Holland Sentinel: Michigan billboard campaign contrasts Trump's words against Jesus'
[Carolyn Muyskens, 10/13/20]
The campaign, called "His Words Matter," is an effort by the liberal evangelical group Vote Common Good to persuade Christian voters that the things President Donald Trump has said on the campaign trail and in office "stand in opposition to the words of Jesus Christ."
The billboards juxtapose quotes from the president with the words of Jesus.
One billboard, for example, shows an image of Jesus with the phrase "Turn the other cheek," drawn from Jesus's words in Matthew 5:39, next to an image of Trump and the words "I'd like to punch him in the face," a comment Trump made about a protester who was removed from one of his 2016 campaign rallies.
Joseph R. Biden, Biden Campaign Press Release - ICYMI: Biden for President Featured in Faith News This Week Online by Gerhard Peters and John T. Woolley, The American Presidency Project https://www.presidency.ucsb.edu/node/347092