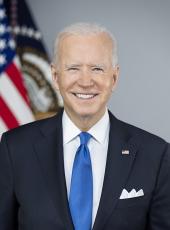 Biden Campaign Press Release - ICYMI: American Federation of Musicians of the United States and Canada Endorses Joe Biden for President
Last week, the American Federation of Musicians (AFM) of the United States and Canada endorsed Joe Biden for President of the United States citing his long standing commitment and dedication to protecting the rights of workers. The AFM represents 80,000 professional instrumental musicians playing in orchestras, bands, clubs, and theater—both on Broadway and on tour. AFM members make music for film, television, commercials and sound recordings. The AFM negotiates fair agreements, protects ownership of recorded music, secures benefits such as health care and pension, and lobbies Congress for musicians and rights of all workers.
The American Federation of Musicians of the United States and Canada issued the following press release:

AFM Endorses Joe Biden for President
New York, NY—Today, the International Executive Board of the American Federation of Musicians of the United States and Canada (AFM), announced its endorsement of Joe Biden for president in the 2020 election.
In announcing the union's endorsement, AFM International President Raymond M. Hair, Jr. issued the following statement:
"For musicians who are concerned about providing for themselves and their families, protecting their rights at work, being able to perform their job without undue political influence, and ensuring the security of their pay, benefits, and retirement, Joe Biden is the clear choice. The Federation joins with all Americans who want to see a nation that is united, that promotes inclusion and a vision for the future, and that honors and respects all of its citizens. And for these reasons, AFM is proud to endorse Joe Biden for president of the United States."
This presidential endorsement is based on Biden's unswerving commitment to the hard-fought principles and ideals of organized labor movement. It was arrived at by a unanimous vote of the AFM International Executive Board, comprised of International President Hair, International Vice President Bruce Fife; Vice President from Canada Alan Willaert; Secretary-Treasurer Jay Blumenthal; and Executive Officers: John Acosta (Local 47, Los Angeles); Ed Malaga (Local 161-710, Washington, DC); Tina Morrison (Local 105, Spokane, WA); Terryl Jares (Local 10-208, Chicago, IL); and Dave Pomeroy (Local 257, Nashville, TN).
"The AFM is proud to stand with Joe Biden now as he seeks to unify and grow our country through responsible leadership."
Joseph R. Biden, Biden Campaign Press Release - ICYMI: American Federation of Musicians of the United States and Canada Endorses Joe Biden for President Online by Gerhard Peters and John T. Woolley, The American Presidency Project https://www.presidency.ucsb.edu/node/345192