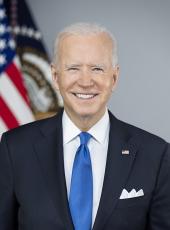 Biden Campaign Press Release - ICYMI: African Americans for Biden & Small Business for Biden "Mobilize Main Street" Discussion Focused on Black Entrepreneurs and Small Businesses
Yesterday African Americans for Biden and Small Business for Biden hosted Mobilize Main Street, a business leadership training program that taps into the strength of our small business supporters as community leaders and trusted voices for voter education, outreach & engagement. The event focused on Black entrepreneurs and small businesses, featuring remarks from former Deputy SBA Administrator Marie Johns, Executive Director of the Black Economic Alliance David Clunie, President and CEO of the U.S. Black Chambers Ron Busby, and local Metro-Atlanta small business owner Carolyn Pitt of Film Connx. Christopher R. Upperman, Rhett Buttle, and Trey Baker also joined the event to discuss the Biden-Harris agenda for Black entrepreneurs and small businesses.
See below for highlights from the event:
"The Trump presidency has been devastating to Black businesses and Black America in general," said Marie Johns, Deputy SBA Administrator. "Small businesses, and particularly black-owned small businesses' power, importance, dynamism, and worth in the fabric of our country can not be overstated. And that's why we need a Biden-Harris administration that's going to honor those businesses and give them the support that they need."
"The Black Economic Alliance works to elevate the conversation around what it means not only to the Black community but to the entire U.S. economy for Black folks to do better. To put that in context, Citi Bank just put out a report showing that the U.S. economy has lost out on 16 trillion dollars of growth as a result of racial inequity," said David Clunie, Executive Director of the Black Economic Alliance. "We are very encouraged by some of the things the Biden-Harris campaign is championing like supporting small businesses, increasing access to capital, and increasing public private partnerships."
"The Biden-Harris administration is all about intentionality. The government can do a great number of things to move our economy forward in reference to black-owned businesses," said Ron Busby, President and CEO of the U.S. Black Chambers. "To have long-term sustainability in the Black communities, make sure that Black-owned businesses have what they need: access to capital, access to good policy, and access to really good contracting opportunities."
"While we know that banks are critical, we also know there is more that they can do. Particularly during what we are experiencing with COVID-19 including an economic downturn, healthcare crisis, and drastic unemployment," said Carolyn Pitt of Film Connx, a local Metro-Atlanta small business. "We have an opportunity with the Biden-Harris administration to make sure that public and private partnerships can step in where Silicon Valley alone has not taken the time and the effort to support black and brown businesses."
"Up to 40% of Black-owned businesses will not survive this pandemic," said Trey Baker, Biden for President's Director of African American Engagement. "The Biden-Harris campaign has been putting forth solutions on how to help and how to come back post COVID-19."
"The reality is the current administration has failed black America… there's been a lot of promises to black America, and the reality is they've fallen really short of those promises… We have black businesses that are closing at a rapid clip," said Christopher R. Upperman, a Small Business for Biden-Harris advisor. "That is not the option, the option is Joe Biden and Kamala Harris, in my perspective."
Joseph R. Biden, Biden Campaign Press Release - ICYMI: African Americans for Biden & Small Business for Biden "Mobilize Main Street" Discussion Focused on Black Entrepreneurs and Small Businesses Online by Gerhard Peters and John T. Woolley, The American Presidency Project https://www.presidency.ucsb.edu/node/347087