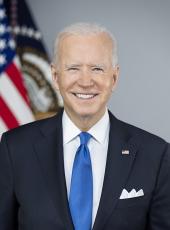 Biden Campaign Press Release - Fact Sheet: Trump Has Failed Latinos
Since he first began his campaign for President, Donald Trump has denigrated and stigmatized the Latino community. He turned his back on Dreamers and embraced a sheriff who was known for profiling Latinos. As President, he has worked to systemically dismantle labor protections and undermine public schools. He abandoned and insulted Puerto Ricans whose lives were ravaged by Hurricane Maria. From botching the coronavirus response to undermining our nation's health care system, Trump has not only disproportionately harmed Latinos; he has tried his hardest to outright cast them as un-American.
Trump's negligent handling of the coronavirus has hit Latino-owned businesses particularly hard. As of June, one in ten Latino businesses remained closed as a result of the current crisis. Latinos have suffered disproportionately from Trump's mismanagement of the coronavirus. Almost two-thirds of Latino households have lost employment income since March, and Latino unemployment is 12.9%.
Latinos were disproportionately left behind by Trump's tax law, and many will actually face higher taxes by 2027.
Approximately 10 million Latinos a month have been helped and nearly 2.5 million Latinos have been lifted out of poverty in 2015 alone as a result of the Supplemental Nutrition Assistance Program (SNAP). Trump's budgets have consistently sought to cut the program's funding.
The entire U.S. economy, and in particular the Latino community, faces potential calamity as a result of Trump's efforts to rescind Deferred Action for Childhood Arrivals (DACA) and eliminate protections for Temporary Protected Status (TPS) recipients.
Trump's support of the lawsuit to overturn the Obama-Biden Affordable Care Act (ACA) puts millions at risk of losing their health insurance, and endangers protections for more than 100 million people who previously could have been denied coverage due to pre-existing conditions like asthma, cancer, and diabetes. Latinos, who made more gains in coverage than any other ethnic group as a result of the ACA, are particularly at risk. If Trump's proposed cuts to Medicaid were enacted, many of the roughly 32% of non-elderly Latinos covered by Medicaid would be harmed.
President Trump has demonized and endangered Latino families by relentlessly pursuing a nativist policy agenda and fomenting hate. Throughout his more than three years in office, President Trump has fanned the flames of white supremacy in this nation, including by saying that undocumented immigrants "invade" and "infest" our country. Anti-Latino hate crimes surged by more than 40 percent from 2016 to 2018, and 2019 was marked by a horrific anti-Latino mass shooting in El Paso, Texas. Instead of protecting Latinos, Trump separated thousands of immigrant children from their families and diverted billions of dollars of taxpayer money from Pentagon construction projects and Puerto Rico recovery funds to build a wall along the U.S.-Mexico border. In addition, Trump has threatened to derail important government programs and services that taxpayers depend on if Congress refuses to fund his wall.
Highlights: How Joe Will Support Latinos
Joe Biden believes that the Latino community is a core part of the American community and their contributions are evident in every part of society. Today, Latinos are on the frontlines caring for and feeding their fellow Americans, including approximately 200,000 DACA recipients who are working as essential workers while Trump works to rescind DACA. As President, Joe will not just build our economy back from this economic recession worsened by Trump's failure to get the virus control, but he will build our economy for Latino workers and families and end Trump's constant attacks on Latinos and immigrants. Joe will:
Make far reaching investments in ending health disparities by race. The pandemic has highlighted long-standing, pervasive disparities across our health care system. A clear pattern has emerged that suggests Latino communities are bearing disproportionate harm from the pandemic. Joe will immediately help Latinos get access to health coverage during the crisis and will protect and build on Obamacare to ensure access to high-quality, affordable care beyond the crisis. He'll provide Latinos a new health insurance option - a public option - and double investments in community health centers. And, he'll invest in helping people stay healthy, including by ensuring Latino communities have clean air to breathe and water to drink, and healthy foods to eat.
Invest in Latinos economic mobility. Joe has a plan to Build Back Better, creating millions of good-paying jobs, increasing the minimum wage to $15 an hour and eliminating the tipped minimum wage, and helping Latino-owned and other small businesses manage through the pandemic and come out of the other side stronger. And, he'll leverage more than $150 billion in new capital and opportunities in economically disadvantaged areas - especially for Latino small businesses and other small businesses that have been structurally excluded for too long.
Expand access to education and tackle racial inequity in our education system. Over a quarter of K-12 public school students are Latino. Our collective success depends on investing in an education system that elevates Latino students. Joe will provide high-quality, universal preschool for all three and four-year-olds, eliminate the funding gap between majority white and non-white districts, and improve teacher diversity. He'll invest over $70 billion in underresouced Hispanic Serving Institutions, other Minority Serving Institutions, and Historically Black Colleges and Universities. He'll ensure Latinos can attend community college without debt, make public colleges and universities tuition-free for all families earning under $125,000 (88% of Latino families), and double Pell grants. And, Joe will ensure Dreamers are eligible for his free tuition plans and other financial aid if they meet other requirements for that aid.
Secure our values as a nation of immigrants. Joe will stop the separation of children from their parents and reunite families. He'll reverse Trump's detrimental asylum policies and ensure those seeking refuge in the United States are treated with dignity and get the fair hearing they're legally entitled to receive. Joe will prioritize legislative immigration reform to finally give some 11 million undocumented immigrants a roadmap to citizenship, including Dreamers and their families. He'll review every Temporary Protected Status decision made by the Trump Administration. And, he will extend TPS to Venezuelans fleeing the Maduro regime.
Joseph R. Biden, Biden Campaign Press Release - Fact Sheet: Trump Has Failed Latinos Online by Gerhard Peters and John T. Woolley, The American Presidency Project https://www.presidency.ucsb.edu/node/345309